Not only did The Husband decide to have lunch with me, he brought surprises with him!! Most of you know he is way more creative than me, but, just in case you didn't, here is proof. He couldn't wait to give me one of my gifts and my card. He was having a hard time keeping it a secret what he had got…..I unwrapped the package and this was written on the box.
I am intrigued at this point, but, I think I've figured out what he got. So, I quickly open the package and this is what was inside.
He had me totally convinced Aluminum represented the 5 year anniversary!!! Ha! Then, I opened his card and he made up a little thing for each year with stuff we had around the house. Yes, he actually glued all this stuff in the card.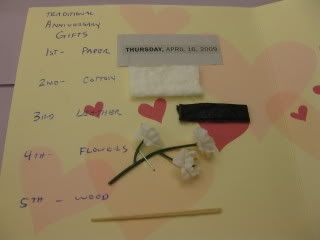 He got me some scratchers and the best gift ever!!! Since Wood is truly what you are suppose to give on your 5th year anniversary, he said he is going to build me a brand new, expanded pantry. I am telling you – it is what every girl dreams of….ok, well, maybe just me!!! He said he wanted to give me extra shelves to fit all my new plates I have been getting LOL!!! I LOVE him – he rocks!
For lunch, he picked Buckhorn's since he wasn't able to go on Monday. I got the Yik Yak Salad with chicken that you saw on Monday. Sorry for all the repeats this week, but, this salad is that good. I think I could eat it everyday.
And a few items from the the Frings sampler. I can't pass up a sweet potato fry!
We also took a picture for our scrapbook. You know, I really wished they had a 5 of any suit instead of the 6 of spades we received….Oh well, that might be pushing my 5 obsession too far 😀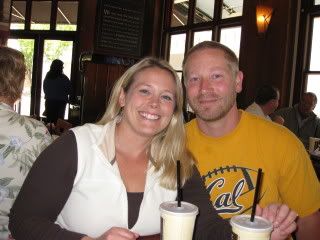 We had a fabulous time at lunch and I LOVED his little surprises. I know he is cooking up something fun tonight now that he doesn't have to work ~ Either a replication of our first day or something else. I am going to have alot to make up for when we get to Tahoe 🙂 I can't wait to give him my gifts, but, I ummm, still have to finish getting them first! You know it's 5 things, right?! I am bad….lol
IN OTHER COOL NEWS:

Here are two fun links to check out.
In case you missed the Biggest Loser Makeovers, here is a link to all their Magic Makeover Pictures:
http://tv.yahoo.com/slideshow/422/photos/1
And, here is another interesting article abou 5 healthy foods you SHOULDN'T eat….I found it pretty interesting.
http://food.yahoo.com/blog/yahoofreshpicks/7939/surprise-nutritionist-no-nos/
I am not sure if I'll make it back tonight to post, but, I will be sure to give you a full recap when I return. We may head out for Tahoe tonight after our date instead….I can't wait….tick, tock, tick, tock!!!