Today is a super busy work day which means a "working lunch" and no time for running or fun at lunch. That's ok though because I am slamming my work out and prepped an awesome meal this morning.
This is my absolute favorite way to have tuna and it's great as a sandwich, with crackers or as a salad.
Mayo~Less Tuna Salad
1 can of albacore white tuna in water, drained
1/4 cup diced red onion
2 stalks celery, diced
5 pickled cucumber slices, diced (they are like Bread n Butter pickle chips)
1/4 cup fat free greek yogurt (more or less depending on desired consistency)
1/2-1 Tbsp spicy brown mustard (I used Annie's!)
1/2 tsp dried dill (although fresh would be amazing & I'd use about 1 tsp then)
Sprinkles of Garlic salt and Freshly Ground Pepper
Mix it all together and let stand for best flavor. I LOVE this with Kashi Crackers ~ it's the perfect snack.
Today, I served mine up on some high protein/fiber Ezekial Multi Grain Bread with spinach, tomato and more cucumber slices.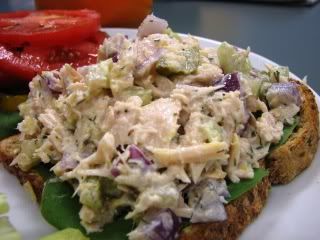 Put together as one big sandwich
And mushed to fit in my big ole mouth 😀 So good!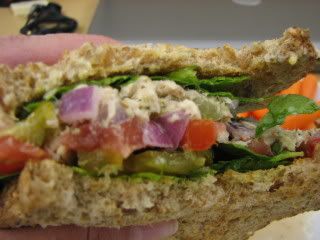 For sides I had some crunchy celery, baby carrots and of course, MORE cucumber slices:
I have this really huge orange that I had planned with my meal, but, I am completely content now. The orange will definitely have to wait for another time.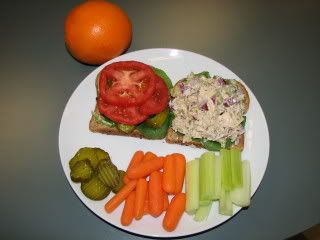 My co-worker said she is coming back from her lunchtime shopping with some treats ~ Must save room for the important stuff, right?!
Don't forget to vote for your favorite bake sale item and enter Part 2 of the Annie's Giveaway There are only 3 hours left in the contest…..make sure you comment for your chance to win!

Ok ~ It's back to the grind – wish me luck that I can get it ALL slammed out! Coming up later tonight, I will be posting another Bake Sale Highlight that you all just have to see!