Have you all noticed that I absolutely LOVE using the grill? My biggest incentive is that there are NO dishes as in pans to wash. I don't mind regular dishes because they all can go in the dishwasher. I am sure you can guess that our entire dinner tonight was made on the grill. Anyway, now that you learned another fun fact about me, I'll get onto our grill fun.
Last night I took our a Tri Tip and marinated it in Trader Joe's Island Soyaki.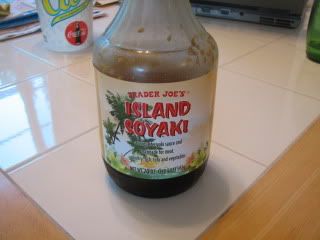 I LOVE this marinade because it can be used on anything from tofu – beef. It's a great alternative for whenever you are not making your own marinade and want something fast. It has decent nutritionals as well.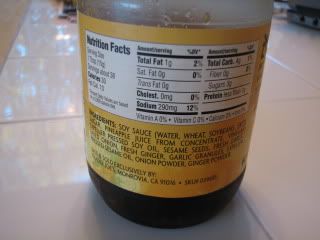 After throwing it on the grill and cooking it "slow and low" for a little under an hour it was ready.
I made up organic roasted red potato packets and cooked them alongside the tri tip for about 20 minutes. They are easy to make. Simply cut your potatoes into 8 pieces, sprinkle with garlic salt, freshly ground pepper, italian seasoning and a little extra virgin olive oil. Wrap them in foil packets and toss them on the grill.
Corn is always a must when you BBQ and it's on sale 4 for $1. I wrapped up some corn and threw it on the grill too.
Since corn doesn't really count as a veggie to me, I sliced up some cherry tomatoes with cucumber and sprinkled them with a little white balsamic, sea salt and pepper.
Tadahhh! Easy, cheesy, right? Well, my eyes were way bigger than my stomach so I ended up giving The Husband 1 slice of my meat (as much as I didn't want to!) and 1/3 of my potatoes.
It was a great dinner and I know I made The Husband happy after working on the concrete all day long. Would you all be all that surprised if I told you he typically eats the entire tri-tip except for my 3-4 oz LOL. He saved a couple slices for later this time for his late night snack.
After dinner I wanted something sweet and I might have had a York Peppermint Patty and then I saw THESE…..
Do you all remember BRACH's Candies?! OMG ~ I had completely forgot that I bought them for The Husband (they are his favorite!). So, I stole a couple for dessert. I am not sure if it was a fair trade for the lowfat rocky road ice cream cone I was planning but I'll have to save that for another night.
Off to read and relax! I hope you all had a fantastic long weekend ~ as much hard work as we did, it was completely worth it!
My Hungry Girl Cookbook Contest ends tomorrow so be sure to click HERE for your chance to win.