This morning I started my day off with Yoga for Runners that I downloaded from here. I LOVED being able to roll out of bed and workout in my pj's. This session focused on balance and strenghth more so than the Gentle Hath Stretching that I did yesterday. It felt like a little bit of a workout plus stretching and relaxation. It was a great way to start my day, but, it did make me move a little slower getting ready for work today 😀
For breakfast I decided to mix it up a bit. I have 1 cup of Kashi Heart to Heart with 1/2 cup of Nature's Path Organic Pumpin Raisin Crunch, 5 Quaker Qats Squares, topped with 1 banana and 1 cup of vanilla soy milk. I really enjoy mixing healthy, lower calorie cereals with healthy higher calorie cereals as it really makes the healthy low-cal ones taste better. I like coming across say raisins or pumpkins seeds or the Quake squares ~ it's like having a hidden surprise lol. My favorite to do this with is Trader Joe's High Fiber Cereal (a.k.a. Fiber Worms), however, it contains "whey=milk" so it is not Vegan.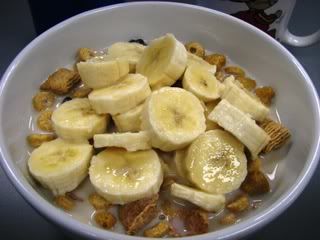 I am hoping the fiber plus protein plus banana make this a satisfying meal that stays with me.
Day 1 of Vegan week went well ~ here are my stats:
Calories burned: 2,384, Steps taken: 6,044
Calories consumed: 1,570
8 % Protein, 51% Carbs, 41% Fat
Happy Monday all! It's The Bachelor finale tonight and yes, I will be watching. I like watching the first and last episodes best….I can't wait to find out what their big surprise is. (I won't post a link so I don't spoil it for you) ~ I hope what US magazine reported isn't true, but, we shall see!