I don't know about you all, but, I am so excited to have made it over the hump of the week and to be on the downward slope towards the weekend. I seriously live for my weekends and definitely think that whoever created the work week schedule should've made it more balanced ~ like 4 days of work and 3 days off 😀
I went for something fast and easy today for breakfast ~ cereal + fruit + milk. I mixed these 3 cereals to create my morning mix.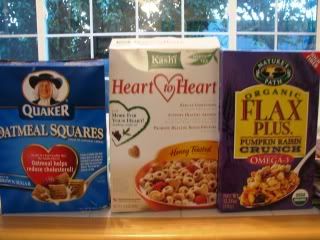 1 c Kashi Heart to Heart
1/2 cup Natures Path Organic Pumpkin Flax
1/4 cup Quaker Oat Squares (for fun)
1 c nonfat milk
1 small banana
Served up with some watered down Starbuck's full caffeine today. Oh yes, my heart is going to race for sure today.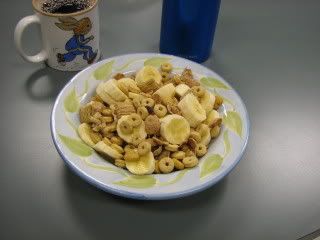 Alright, I am off to meeting #1 of my like 5 meetings today. I am fitting in work somewhere in there too. See you all for lunch!