Tonight I decided to cook dinner for The Husband's Mom to celebrate Mother's Day. I spent the remainder of the afternoon preparing my eats for tomorrow and cooking up our fun Mom's Day Dinner. I will start out with what I made for them first and then show you what I had on The Jump Start Menu….I did ALOT of cooking.
I marinated a big Tri Tip in Chaka MMMM Sauce all day long. I LOVE this sauce – it rocks on chicken too.
The best recipe for marinating tri tip is to take 1/2 bottle of Chaka Sauce with 1/2 a beer (it acts as a meat tenderizer), juice of one lime, 1 clove of minced garlic, 1 Tbsp toastes sesame seeds, salt and pepper. You can add this sauce when you freeze it so as it unthaws, it marinates.
I slow cooked the tri tip on the grill for about 45 minutes for The Husband and his mom.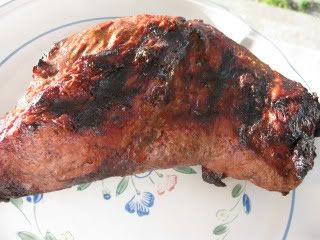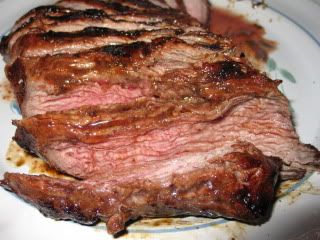 I whipped up a batch of my Healthier Potato Salad! I did have to sample a few bites to make sure I got the seasoning right. This is the first time I used organic red potatoes and I actually believe it tasted better….I wonder if organic matters in potato flavor – sweeter, maybe?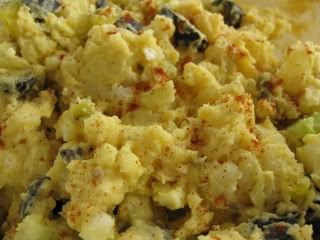 For their veggie requirement, I made up some of TJ's fresh cook in a bag green beans topped with a little kiss of butter, sea salt and pepper. Snappy, crisp, sweet and delicious!
I served up fresh watermelon for dessert to round out their dinner.
My Jump Start Menu was just as fun. I grilled up some pork chops. My favorite recipe for making pork chops is to make up your own BBQ sauce – it's so simple and easy, but, tonight I took a short cut and used Annie's Sweet & Spicy BBQ sauce. I had 1/2 of this lean boneless pork chop.
My favorite way to get in my Healthy Oil requirement for Weight Watchers is by making home fries. I did that tonight by making "Sweet Potato Fries". Peel and cook your sweet potato in the microwave for 4 minutes. Cut it into "fry" shapes while you heat up your 2 tsp of healthy oil. "Fry" your fries and sprinkle with sea salt – so crispy and delicious with ALOT less fat that the real deal.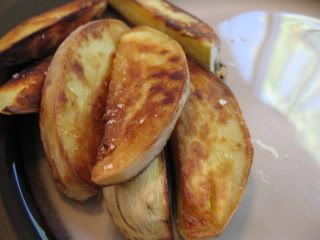 The Jump Start planned called for Brussel Sprouts which I am just not a fan of. But, in an attempt to be open to new things, I gave them another shot. My All Clad pan from Food Buzz made another Debut in the process.
I started off by peeling the outside layer off the sprouts and quartering them keeping the stem in tact. I blanched them by allowing them to skinny dip in in boiling salt water for 3 minutes before rinsing them in cold water.
I chopped up a shallot and cooked it in a little olive oil for about 2 minutes until soft. I added the sprouts to the pan and cooked for 2 more minutes. Remove them from the heat and drizzle with about 1 Tbsp Dark Agave Syrup and Sea Salt. Top with some roasted cashews.
The verdict ~ well, I actually ate the two servings I put on my plate and I think I liked them. I don't love them but this might be the way to go. I liked the sweet touch of the Agave with the saltiness of the sea salt.
Phew! That was alot of food to cook in one night plus I made up my lunch for tomorrow. I am off to get my beauty rest just in case I get to be on TV tomorrow! I have to admit I really want to see who The Celebrity Apprentice is (LOVE Annie Duke), but, I know I won't make it til 11.
See you all in the morning.