Ok all ~ It's Giveaway time! But, before I get to the Giveaway Details, let me just tell you that The Husband said he'd take one for the "team" today and break open a bag to try them out since I am on Bikini Bootcamp Restriction 😀 He's funny!
I let him pick any flavor and he picked BBQ to try first.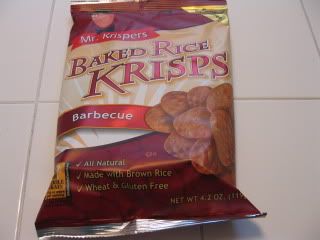 You get 35 of these chips for 2 Weight Watcher Points (110 cal, 2.5 g fat, 1 g fiber). Check out how much crunch you get for a serving.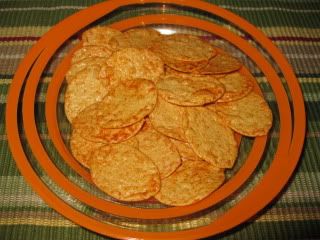 Did I mention that this flavor is not only certified Gluten Free, 100 % all natural, but VEGAN. Check out the nutritionals….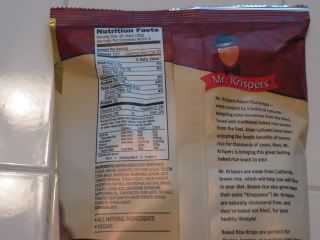 Mr. Krispers intrigued me when I heard of them because all of their products are made with 100% natural ingredients, contain 10-11 g Whole Grains Per Serving, are baked, never fried, Certified Gluten Free and you can recognize ALL the ingredients on their package!!! These are all things I look for in a healthy snack!
THE REVIEW: He actually LOVED them and gave them 4 out of 5 stars. He ate them straight up and put them in his soup. I may or may not have stolen 2 of these chips. I LOVE how light and airy they are but they are super crispy and crunchy. They are not like any rice chip I've ever had. The BBQ flavor has a little kick to it that makes it as well.
HERE IS HOW TO ENTER MY GIVEAWAY:
1) Leave your FIRST comment below telling me which flavor you most want to try.
2) If you have a blog, link back to this contest and leave a SECOND comment with the link letting me know.
3) TWEET about this Giveaway and leave a THIRD COMMENT telling me you did for a THIRD entry.
These bags are ALL the FULL SIZED bags with 4 servings per bag – that's a whole lot of crisp. I will also include a coupon for each winner so they can head out and buy more.

I am giving away 1 of each of the 4 flavors I have and two of them are VEGAN!!!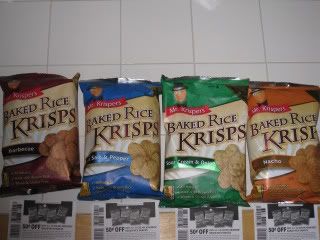 Sour Cream & Onion
Nacho
VEGAN Flavors:
Sea salt & Pepper
Barbecue
FOUR RANDOM WINNERS will be drawn using randomizer.org. This giveaway is open until Friday, June 5th at Midnight (PST)! Good luck, good luck!