The Husband wanted to treat me to dinner tonight instead of having me cook – yeah! I wasn't feeling too hungry so I opted for one of my favorite healthy places, Fresh Choice. If you all have one near you and haven't been, be sure to check it out. Everything is so fresh and heathly plus they have a bunch of fat free dressings to pick from. It's very points and calorie friendly depending on how you build your meal.
I started off with a fresh, crunchy salad with fat free honey mustard on the side for fork dipping. I didn't like nor eat the broccoli salad you see, but, I DID LOVE the pickles and peppercini.
I LOVED how they had corn on their salad bar!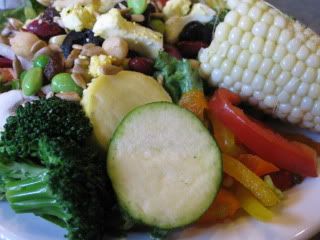 I LOADED up with almost every veggie plus beans, edamame, a Tbsp of raisins and sunflower seeds. I managed to each about 2/3 of this salad before I moved on.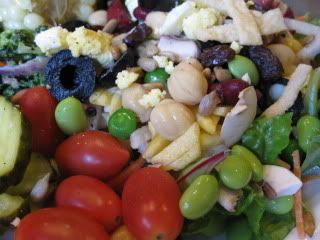 I also grabbed a slice of a whole wheat pita with some roasted chipolte pepper hummus – so smokey, spicy and goiod.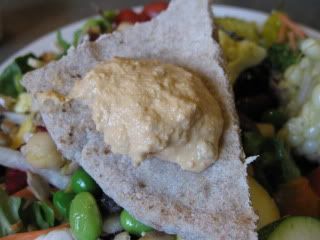 Next I had a hard time choosing which soup I wanted ~ my favorite chicken noodle with the thick noodles, Southern Lental, Texas Tortilla Soup, French Onion….there were too many choices. So, I opted for my favorite.
The Husband was nice enough on his "breads" round to pick me up a piece of their thin crust veggie pizza. I normally do not like their pizza, but, this was a new version – Yum! The crust was thin and crispy but still doughy and I LOVED all the veggies loaded on there.
I also stole a bite of a corn bread muffin with honey spread – I LOVE these but I wanted to save the rest of my calories for their lowfat ice cream.
No trip is complete without a serving of their 3 WWP lowfat ice cream on top of the 0 point, 15 calorie cone. You know, I used to like sprinkles but these sorta tasted like plastc – maybe they were? LOL.
It was a great way to end the week and to spend time with The Husband. I feel like we have been lacking there lately.
Instead of heading out to the movies, we decided to head back home to watch one of our Net Flix. We got hooked on watching Bourne Supremacy with Matt Damon instead. It's so funny to me at how I've seen this movie & series so many times yet I am still intrigued enough to watch it again and again. Love Matt Damon movies!
Coming up next ~ The HG Snack Pack Winners!!!