The Husband is such a nut ~ seriously ~ a total clown! We have this little board on the fridge that he got us to write down what's for dinner each day. It's fun even if we don't follow it day by day ~ it is what we end up making for the week. Well, last night I checked to see what I needed to layout for dinner tonight and this is what happened to our board.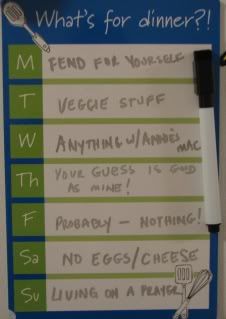 It still makes me laugh today – love it! I slept in this morning versus getting up to work out and it was so nice. I am feeling my arms from my pushups last night but it's a food thing. I can't wait to do more tonight (ummm…not really!)
I decided on something light and quick for breakfast. Kashi Strawberry Flax Waffles for some protein & fiber.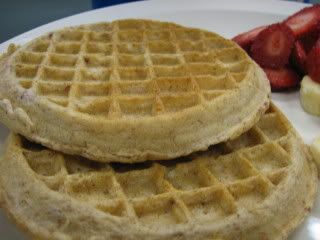 Combined with a few strawberries and a small banana.
All together with some Trader Joe's FF Blueberry Greek Yogurt for some protein.
It was the perfect start to my day. I hope you all have a fabulous Friday and it flies by quickly so you can start your weekend.
I plan on heading out at lunchtime for a quick walk or run ~ see you for lunch after that.