Today I had to run some errands at lunch to pick up some things at Whole Foods and Trader Joe's ( I LOVE how they are right next to each other in Napa!) I also had to pick up my co-workers Organic Fruit & Veggie Box from River Dog Farms ~ so jealous! Ok, well, it IS fair since she won it this week and I've won before. Each week our company gives one employee a free box through a random drawing ~ Nice perk, right?
Ok onto lunch ~ I was reminded today why I do not go to any grocery store hungry ~ everything looks and sounds sooooo good! I decided to make lunch a "why not try it all" sort of sampler plate. This was so much fun to eat.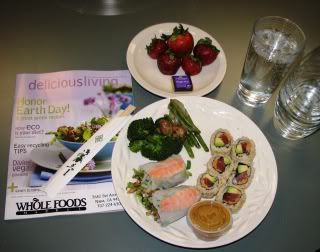 I started off with a Brown Rice Spicy tuna and Avocado Roll (I gave away the extra pieces not pictured here). The tuna was so fresh and I loved the nuttiness of the brown rice ~ I am trying to get my fill of raw tuna before I cannot have it anymore 🙂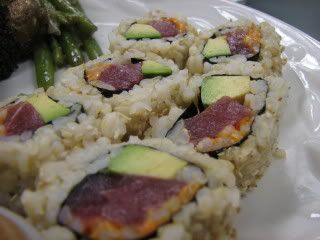 Then, I moved onto the Shrimp/Veggie roll with a Spicy Peanut Dipping Sauce. This was pretty tasty but not quite what I expected. It was sort of like having a salad in a rice wrapper with a piece of shrimp. I think the peanut sauce was the definite star of the show here.
I browsed the salad bar and passed after my huge salad at lunch. But, when I saw the freshly roasted garlic with broccoli, roasted green beans with shallots and roasted mushrooms, I had to sample some. These were perfectly crisp with an awesome roastiness. I loved tasting the additions of the garlic, herbs and shallots.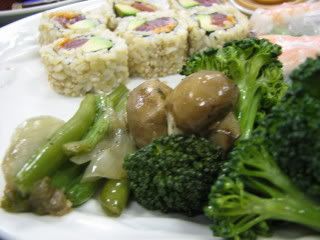 Now for dessert ~ some fresh organic strawberries (that were on sale!) and a triple nut natural chocolate that I threw in at the last minute. This was a perfect ending to my meal.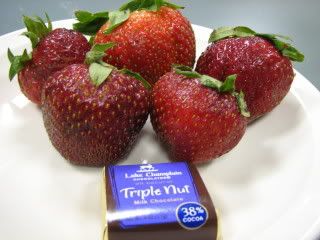 The weather is so amazing today ~ It's sunny and in the low 70's ~ a perfect day for a walk or a run. I have to say I did miss my midday stroll but it was worth it to get things done.
IN BLOG LAND:
Be sure to check out Jenna's Dessert E – Cookbook! It's awesome ~ 85 pages of fabulous blogger recipes that will make you drool. Plus all the proceeds go to the charity she is running for. I got my copy today and I definitely think it's worth more!
Check back tonight for a fabulous new quick & easy Vegetarian Recipe that The Husband and I absolutely love!