Can I just say that I LOVE a food plan that includes having one of those fabulous Black Bean/Corn/Avocado Burritos for snack?! Ya, I pretty much LOVED my AM snack even though it was minus the avocado.
The Jump Start Plan called for 4 oz of grilled fish (are you surprised, really? lol). Since I didn't make any up last night, Whole Foods completely saved the day. I picked up this AMAZING (can you believe I said that about fish, especially salmon?) Thai BBQ Salmon.
With a side of the Cheesy Polenta with Vegetables.
And a sliced Roma Tomato sprinkle with dill and Benissimo Blueberry Balsamic Vinegar
I couldn't resist adding in a little crunching fun with some Sour Cream & Onion Pop Chips! So crunchy and tasty and Pringle like all while being "popped" not fried. See my full review on these next.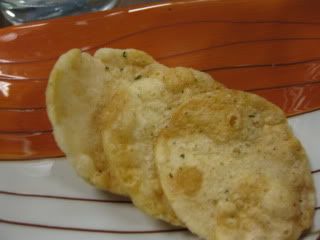 All together with 8 oz of fat free milk and fizzy water.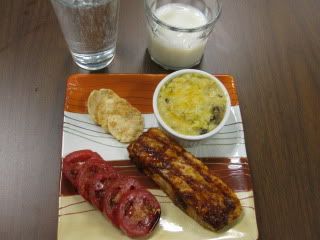 It was truly a satisfying lunch that felt like I was at a restaraunt. I made a good attempt but only managed to eat about 2/3 of the fish and polenta. I was really surprised at how good the fish was from WF – I need to go back to find out what Thai BBQ sauce that was for sure.
While I was out and about today at Whole Foods, I was really craving ice cream. I have been seing the So Delicious Ice Creams everywhere so I decided to pick them up and give them a try. I think I was originally scared because I thought they were made with soy milk and as you can see by my review HERE I wasn't a fan of soy ice cream.
These beauties however are made with coconut milk and agave nectar – YUM!!!
And they are so cute at 100 calories and 3.5g fat, 2 g fiber each (2 WWP). It made the perfect dessert to my meal. You all seriously need to check these out – they rock! I will definitely be on the look out for other flavors to review.
Coming up next, my first two Pop Chips Reviews!