This morning I have been running around getting ready to head out the door quickly for an appointment I have a few towns over. I wanted to make something that would fuel me until lunchtime and a "Waffle-Wich" was the answer.
I started out with 3 big strawberries and a small banana cut into slices.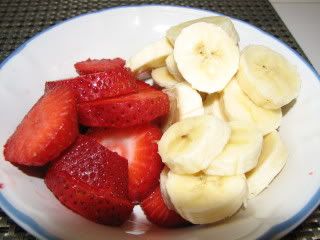 Toasted up 2 Kashi Strawberry Flax Protein Waffles and topped them with freshly ground Organic Almond Butter from Whole Foods.
Added the strawberries on one half the and banana on the other half: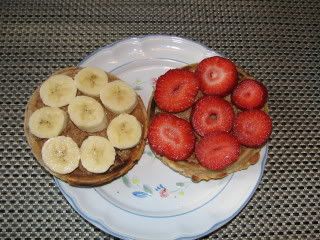 And this is what you end up with:
YUM! This was just like a fancy almond butter sandwich packed with protein, fruit, fiber and a little healthy fat. Oh, I should've used some organic unsweetened coconut too – oh well, next time! I snacked on the leftover fruit as well and hand some Decaf Cinnamon Hazelnut coffee (not pictured).
I am heading out the door and won't be back until after my run or walk depending on how my co-worker feels and lunch. See you all then.
Don't forget to vote in the BAKE SALE Poll for which item you want. There are only 3 days left!