Morning all! I have to say I am still floored over how The Bachelor turned out. I understand that his contract said 100% of your relationship has to be done publicly good or bad, but, wow! Anyway, this morning I was a little scattered gathering stuff after staying up too late watching the show. My oats were quick and delicious.
Peach Blueberry Oats ~ This is my favorite way to make steel cut oats in the crockpot. I made a quick version today using old fashioned oats and frozen farmers market fruit that I saved awhile back.
1/2 c old fashioned oats
1 Tbsp ground flax seed
2 Tbsp wheat berries
dash of cinnamon
1 c frozen peaches/nectarines
1/2 c blueberries
1 Tsp Vegan Butter
1-2 Tbsp brown sugar (a little mixed in and a little on top)
Sprinkle of unsweetened organic coconut
And here is the yumminess up close: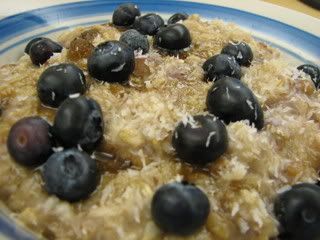 Day 2 recap:
Calories burned: 2,907, Steps taken: 13,637
Calories Consumed: 1,711
11% Protein, 60% Carbs 29% Fat
Happy Tuesday all ~ even if my day has started out feeling like a Monday.