Since yesterday's oats filled me up so well I knew I wanted to have them again. I really like adding wheat berries (Superfood!) and flax to the oats not only for their health benefits, but, because they fill me up.
Todays oats started out with the beautiful pear
In the mix:
1/2 cup Quaker Old Fashioned Oats
1 Tbsp ground flax seed
Sprinkle of cinnamon
1/2 diced pear
1 cup water
Toppings:
1/2 banana
sprinkle of blueberries, organic unsweetened coconut and slivered almonds
2 T Trader Joe's low sugar organic apricot preserves
Up close and personal……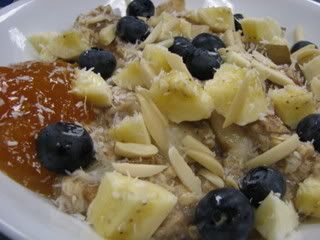 Running bunny decided to join me again…..drinking my coffee in this cup always makes me want to go for a run.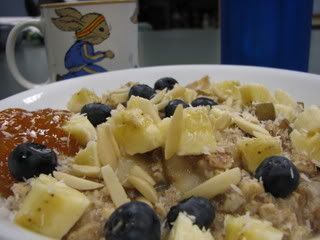 Yesterday's quick recap ~ I really enjoyed my eats yesterday and seemed to stay full the entire day. Being vegan still isn't bad, I could see myself doing it without a hitch. I think I miss gluten most of all.
Calories burned: 2,545, steps taken: 7,671 (not bad for being tied to my desk ALL day)
Calories consumed: 1,565
11% Protein, 57% carbs, 32% fat
Today is a much better day! My pants are starting to feel looser again ~ what a great way to start my day…Happy Hump Day all!
Be sure to check back later as I am trying some fun new products today.