Happy Biggest Loser Day!!! Ok – well, that is what Tuesday is to me each week. Can you believe there are only 3 more episodes before the grand finale? I can't wait. I started out with another powered up Jump Start Breakfast this morning.
A mini serving of BL Strawberry Banana Nut Oats – Oats cooked with a little milk, cinnamon, vanilla. Topped with a 1/4 of a banana, 1 Strawberry & a sprinkle of raw walnuts.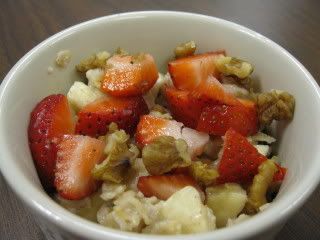 3 Fluffy Egg Whites & 1/2 cup strawberries
Today I had to give in to a little caffeine. I had some 1/2 coffee/1/2 water and also 8 oz of Fat Free Milk that I forgot to include in the picture.
Here is my quick recap for yesterday – Day 1 of the Jump Start Diet.

Calories consumed: 1,480 (I ate exactly what they planned!)
Calories burned: 2,861, Steps Taken: 14,703 (LOVE my Body Bugg!)
I definitely think I had a great start ~ 1 day down, 29 to go!
TODAY'S FUN NEWS:

Women's Health has a great article on Fake Sugars. Click here to find out if Fake Sugars are really good for you – it's a great read.
YogaDownload.com is having a 40% OFF sale in honor of Earth Day! How cool is that?! You can get 40% of your entire order by clicking here and using this code "EARTHDAY09". The sale ends Thursday, 04/23/09 – so don't miss out!!
Be Sure to check out Oh She Glows super cool Stiletto Lash Mascara Giveaway – a fun non-food giveaway – you gotta love that!
Tina at Carrots N' Cake is having a Mix-It Granola Giveaway – Be sure to enter by tonight for your chance to win!
Don't forget to enter the Annie's Naturals Dressing Go Green Giveaway!!!

Have a fabulous Tuesday all! See you for lunch….