I absolutely LOVE the weekends, especially when they start off sunny. I had a quick breakfast this morning of a Cinnamon Raisin Ezekiel English Muffin with organic peanut butter, 1/2 a banana and decaf coffee. I really like Ezekiel products because they are higher in protein and fiber, but, they are pretty tasty as well.
This was absolutely everything I was craving….look at all that yumminess!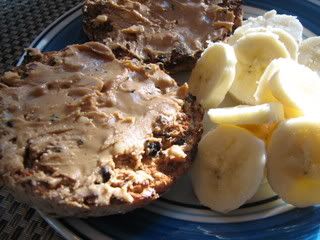 I am off to do another power yoga session before we take off for our day of fun. See you all later!