Yoga for my mind, Yoga for my body! I picked a Yoga Fusion class today for lunch and it was awesome. This class is different from regular Yoga in that it will get your heart rate up and you leave feeling really strong. Here is a description they give for the Yoga Fusion Class:
"Yoga Fusion is a blend of yoga, strength, movement and flexibility. What make this class different are the music, choreography & movement. All moves are put to very unique music in a very unique style. You can expect to flow through this class and experience a full body stretch, as well as muscle strengthening, lengthening & endurance. "
It was honestly just what I needed to ring out all the stress I had going on this week and to stretch out my sore muscles. Although somehow, I think I'll end up sore tomorrow from it LOL. I feel stronger and empowered now – woohoo!
My breakfast kept me full all morning long – no need for an AM snack (and I so wanted to show you all the inside of the pluot -it's bright red!) I came back ready for the fantastic salad I threw together last night.
Quick ChickPea Couscous Salad*
*It's Vegan!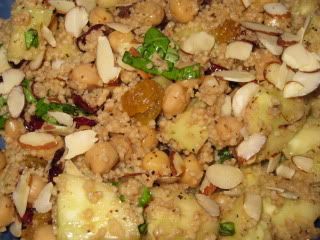 1/2 can chickpeas, drained and rinsed
1/2 c cooked whole wheat couscous
2/3 cucumber, peeled and quartered
1/3 c Trader Joe's Berry blend
1 Tbsp toasted almond slices
1 serving Ginger Sesame Dressing (my new favorite thing – it makes me happy!)
1-2 roughly chopped basil leaves
Sea Salt & Pepper to taste
Mix it all together and enjoy! Makes 1 BIG 9 Weight Watcher Point salad!
TWO FUN THINGS TO CHECK OUT:
The awesome folks at PBLoco (you know the fabulous gourment peanut butter -Think Sumatra Cinnamon Raisin and Chocolate Chip Cookie Dough – YUM!) wanted me to share a fabulous coupon special they have going on right now. Stock up on all your favorite flavors by buying 5 and getting the 6th one FREE. Just add 6 jars to your cart and use this code "BLOG709" when you check out. Coupon expires July 10, 2009.
And because I think this would be a fabulous addition to dunk if your chocolate. Go to Ashley's site for details by clicking HERE to get a FREE Mars bar!
I hope your day is flying by as fast as mine ~ the weekend is almost here – yahoo!