Happy Monday all!  I had a reader inquire this weekend about a delicious and easy salad recipe that I made awhile back.  She actually saw Janetha put a spin on it over on Meals & Moves so I figured, why not bring it back up from the archives to share with you all too :)  Janetha's version adds chicken so you would have to account for the points with that ~ maybe divide it into two servings versus one.
Thanks for the question, Rachel! This got me thinking TWO things:
1.  There are so many recipes that I'd love to make again ~ Maybe I need to visit my recipe page more often and possibly feature archived recipes occasionally to share.
2.  I'd love to feature any of you on my site if any of you make one of my recipes ~ just let me know and I'll be glad to link up.
Quick ChickPea Couscous Salad Recipe*
*It's Vegan!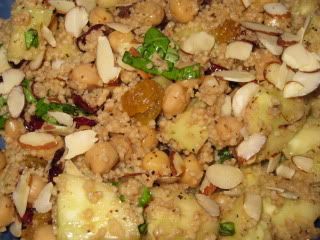 1/2 can chickpeas, drained and rinsed
1/2 c cooked whole wheat couscous
2/3 cucumber, peeled and quartered
1/3 c Trader Joe's Berry blend
1 Tbsp toasted almond slices
1 serving Ginger Sesame Dressing (my new favorite thing – it makes me happy!)
1-2 roughly chopped basil leaves
Sea Salt & Pepper to taste
Mix it all together and enjoy! Makes 1 BIG 9 Weight Watcher Point salad!
Have a great day all ~ I'll be back tonight before The Bachelorette! 😀