Today is flying by and I am getting a ton of stuff done. I have officially planed out all our meals/shopped, did our weekly laundry, made up two new recipes and cleaned up. The Husband made us lunch today so I could keep on working.
He came up with BLTA's ~ my favorite.
2 slices bread
2 slices bacon broken in half
1/8 avocado sliced
4 slices tomato
1/2 romaine leaf
Served up with 1/2 an orange that he split between us.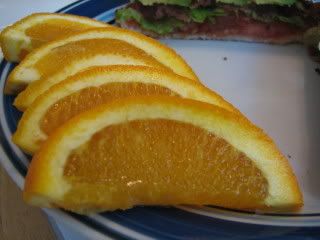 And a Perrier Water….yum! It was a quick and tasty lunch for 7.5 WWP's.
Coming up next ~ one of the new recipes I made today using none other than Eggs from yesterday 🙂
The Husband is currently napping – not sure if I'll join him or not. After he gets up we are off for a bike ride….I can't wait!