(I picture my title more as a song…..) I just got back from a rain drizzling 4 mile lunchtime walk with my co-worker. I really look forward to my lunchtime walks as we gab the whole way and challenge each other to walk faster. Yes, we look like those super hot walkers swinging their arms and wagging their tales, but, today was even better ~ we sported some bright rain gear. We go rain or shine and I love it because it is a great break in the day and another way to burn some calories.
Mid-morning I was pretty hungry so I broke out a quick snack ~ 1 c cantaloupe with blueberries and 1/4 c dry roasted sunflower seeds. It definitely hit the spot.
Lunch was not fancy, but, it was once again amazing. I had leftover 1/2 serving of Vegan/Gluten Free Pad Thai (I swear it's better the next day) and a tangelo. My SIGG didn't make it into the picture but my cute blue bottle was definitely part of the meal.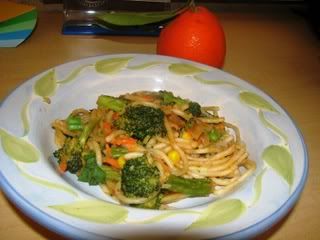 I have been handing out my cookies to co-workers to get their feedback~ check back later for the results of my cookie testing.