Sorry I never made it back today to post my eats. Why is it that work is always crazy when you take even just a day off. But, I survived…1 day down, 4 to go!
This morning I had a simple carb/protein snack of an Organic Fuji Apple with a Light TJ's string cheese.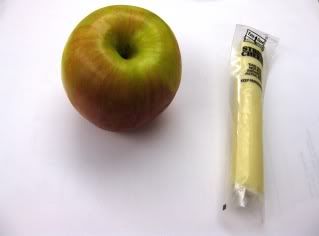 I pondered not going out at lunch to walk when I walked outside. But, I am glad my co-worker talked me into it. It felt great – we went for 45 minutes and didn't melt 🙂 For lunch, I made up a Turkey Wrap.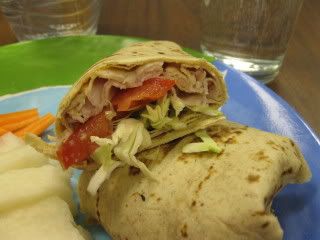 1 La Tortilla Multigrain Tortilla
Hot & Spicy Mustard
2 oz 99% fat free turkey
sliced tomato
Cabbage b/c I forgot the alfa alfa sprouts
I really liked the La Tortilla Wrap. It was moist and wrapped up without cracking – always a plus. But, more importantly, you cannot beat the nutritional stats – 80 cal, 3 g fat, 12 g fiber. I bet these would make amazing quesadillas….yum!
I had a side of 1 cup of Jicama and 2 chopped carrots.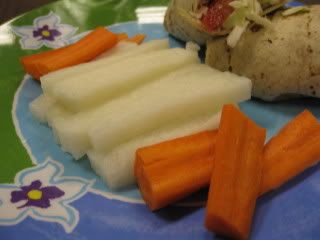 I have never eaten Jicama straight up before. I usually eat it in salads. It wasn't bad, but, I am not sure it would be something I'd buy again to snack on. This lunch did it's job at sustaining me for 3 hours. I really didn't think it would, but, it must have been the fiber.
For snack, I was all too excited to see that the Jump Start Diet included one of my favorite snacks. Egg whites with hummus!! I made up the Creamy Hummus Recipe in the book last night but spiced it up with some Moroccan Hot Chile Pepper sauce. I LOVED the spicy kick it added. I wish I had some roasted red peppers because I would have used those too.
Here is how my Hummus Turned out – can you believe it is made with NO oil at all:
Used on Egg Whites for the filling instead of the yolks. This snack is less than 100 calories and very filling due to the protein.
Stay tuned for my exciting workout plus dinner and of course the GIVEAWAY announcement.