Ok ~ so now how many of you actually thought i found a vegan & gluten free version to make lol. I wish…but, staying true to myself and my partner in crime, Kirwin , i resisted todays birthday cake celebration. We ordered the most amazing red velvet cake from a local baker (famous for their cakes). We weighed it for fun before serving it and guess what – it weighed 12.75 lbs for a ¼ sheet – how crazy is that?
The place forgot to decorate it so my co-worker made it up ~ can you guess what she used?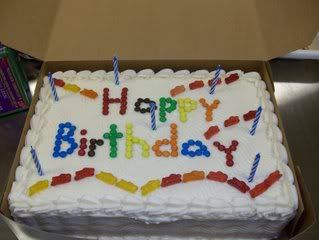 Look at all that oooeey, gooey, frosting! I am sure i drooled on everyone's plates as i cut it and handed it out. I took this piece home for the husband. He told me it wasn't that good but then had ½ before dinner and the other half after. I think he was saying that to make me not want it.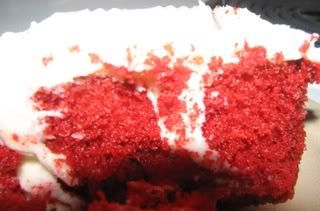 I didn't have a pm snack since i was still full from my lovely lunch.