First off, i have to apologize for not posting until tonight. The project I had to do for work took up all my time ~ as in I worked until 1230 last night and was up at 445 am. I am so glad this is the exception rather than the rule where i work. I promise to try to make my posts short with lots of great pictures.
I have to say today was an amazing food day with a lot of must have again eats. It actually had me thinking, wow, maybe i can do the whole vegan thing. It all started off with this amazing bowl of red, white & blue oats. My co-worker even said it was the best bowl of oatmeal she had ever seen J.
And up close ~ just looking at the picture makes me want it again.
Believe it or not i only included 3 strawberries, but, look how huge these are: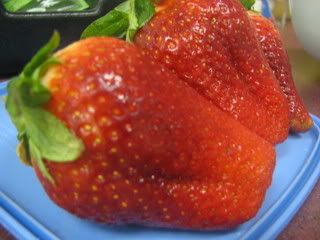 ½ cup old fashioned oatmeal
½ cup water
2 tbsp wheat berries
1 tbsp ground flax seed
¼ cup blueberries
3 extra large strawberries
½ banana
1 Tbsp slivered almonds
1 tsp organic unsweetened coconut
Lite agave drizzle (about 1 tsp)
Mix together the first 4 ingredients and ½ the blueberries. Microwave 2 minutes, stir and add toppings.
My mid morning snack was a lemon bar ~ i love lara bars!