You know it's going to be a hot day when you wake up and it's HOT already. I woke up this morning starving and ready for a cool breakfast. Today I blended a mix of 3 cereals.
To make ~ Red, White & Blue Cereal!!! Ok, so I am only a couple of days late being patriotic, but, who says you HAVE to do it on the actual day, right?! 😀
1 c Kashi Heart to Heart (2 WWP)
1/2 C Kashi Honey Flax Granola (1 WWP)
1 sample pack Fiber 1 (0 WWP)
1 small banana (1 WWP)
1/2 c strawberries, handful blueberries, sprinkle of unsweetened organic coconut (0 WWP)
1 c ff milk (not pictured (2 WWP)
I LOVE BIG breakfasts that fill up my bowl.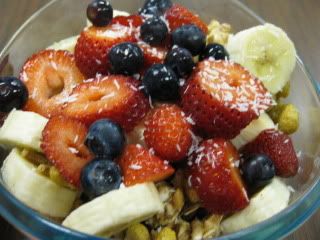 Thanks to everyone for playing along in my Hungry Girl Giveaways ~ they are so fun and I absolutely adore her, her newsletters and her cookbooks. Since I kept you all waiting over the long weekend, I won't make you wait ANY more. The winners were randomly selected using randomizer.org. The WINNERS ARE:
#23: SARAH W. WINS the cookbook because she posted a quick link back about the contest!!! Here's my link back!!http://sarawithanhishealthy.wordpress.com/2009/05/23/quick-post/
#9: Priyanaka who said "I would love to make her Death by chocolate cone cake!I simply love the tee!!" ~ Guess what, YOU WIN the limited editionT-shirt!!!
Both of these ladies have AWESOME blogs – be sure to check them out!
Congrats Sarah & Priyanka!!! Be sure to send me your snail mail addy's so I can send out your HG LOOT ASAP! If you didn't win, do not fret! You can STILL score HG's Cookbook for a SUPER cheap price now on amazon.com ~ It's less than $10s. Click HERE to order your very own copy.
TODAY'S FUN STUFF:
The Husband is such a clown ~ as IF you all didn't already know this! He was worried our adopted kitty wouldn't be able to make it down the fence since we moved our jet skis away for concreting. Well, guess, what he did ~ what any good kitty dad would do – he built her very own step stair case – SOOO FUNNY!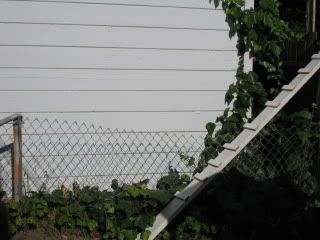 And, since we are speaking of our adopted kitty – she is just as corny as The Husband. She literally flips out whenever she hears the can of soft food open. But, it gets better than that, she actually stands on her plate so that nobody can take it away while she eats it.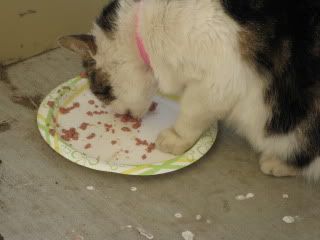 Not that you all needed to see that first thing in the morning, but, I promise you it's funny to watch her "guard" her food.
COOL THINGS TO CHECK OUT TODAY:
* It's THAT time of year again to think about fitting into a Swim Suit. Women's Health has a great article online today about picking the BEST suit for your body type. Click HERE to look HOT in cuts that flatter!
* Organizing Junkie has such a fun download on her site today. Click HERE to download your very own printable grocery envelope ~ such a great organizing idea!
Alright ~ Happy Hump Day! Today at lunch I am heading out to a SPIN class – woohoo! I've missed them, but, more on that later tonight. Catch you all later for more blogging fun.