We had such a blast on Saturday and I had a gazillion pictures to sort through between my Sis, Mom, Dad and I. But, I think I finally made it through enough to make a short slide show for you all to see and throw if a few highlights along the way.
Before I get to all the FUN, let me share my eats for the day. The morning was pretty busy with the FoodShouldTasteGood Sampling AND cleaning house before the family arrived. Breakfast was a 2 Weight Watcher Point Grande NonFat Latte.
I also opened up my final PB&Co Peanut Butter ~ White Chocolate Wonderful. I LOVE how thick and chunky this version is ~ those white chunks are White Chocolate – YUM!
I had intentions of putting it on a banana, however, my banana was not looking so hot. So, I salvaged about 2 bites of it and dalloped a big glob of White Chocolate Wonderful PB on it.
This flavor is so rich and it is definitely sweeter than the other two versions. I LIKE it, however, I think my ABSOLUTE favorite to date is the Cinnamon Raisin. We managed to rush around, clean the house, get read and snap a quick picture (with wet hair) all before the family arrived.
We ended up stopping for a quick bite at none other than Taylor's Refresher in St. Helena. I LOVE the big open picnic area at the St. Helena Taylor's – this is the refresher that shows up on the Food Network from time to time and makes you drool!
I LOVE supporting any business that is GREEN! All of their waste is recycled and compostable – LOVE that! My Iced Tea came in a GREEN Bio-Friendly cup.
My Brother-In-Law ordered their onions rings and made a "hoop" on my straw. That definitely means I have to eat ONE!!
I couldn't decide what I wanted – I always LOVE getting the Ahi Tuna sandwich, but, I was really just wanting a veggie burger PLUS AVOCADO.
And, you can't have a burger without fries….I shared this container with The Husband and Mom ~ yeah for sharing!
We were off and ready for the Safari! When we checked in, we all got cool little bracelets to wear for the day. This is my super cute niece sporting hers.
Oh and we got Bongo Buck's to use in the giftshop too ~ yeah for coupons!
We hopped on board our super cool "Safari" vehicle and got read for our adventure to begin.
All of us sat on the bottom with the exception of my Dad and Brother-In-Law!
Our THREE-HOUR driving tour and Walking Tour was SO COOL! We got to see a ton of different types of Africa animals although I have to say I was bummed that there were no elephants. Here are just a few snap shots of things we saw on the driving portion.
Giraffes that walk right up to the CAR!
And the Ostriches that pecked at our booties while the guide closed the gate.
Zebras ~ They look so cool!
The nicest Rhino's but don't mess with their pile of Pooh! They will chase you at 29 mph if you touch it – kinda, crazy, huh?
A bunch of antelope – I couldn't tell you all the names but they were fun to look at.
Cheetahs!
All kinds of birds
Porcupines, Tortoises and more!
You can stay overnight in one of their Bungalows if you want the real "African" Safari Experience.
It was such a cool experience. If you want to see more pictures, you can click HERE. I will be uploading them into our Shutterfly Album soon too – I'll post a link when we do. Oh, and if you want to see a Video about Safari West, Click HERE. Their website Safari West also has all the details in case you wanted to learn more. It was fun, fun, fun!
During our Safari, I brought a few snacks that we all shared. I had some Tamari Almonds and shared my TJ's PB&A Mix (my niece/nephew devoured it!) and Clif Twists (Love These!)
Ok ~ Just a couple cute pics of The Family before we headed off to dinner.
The Husband sporting his cool wristband and binoculars!
My super cute nephew & niece!
My Sis & Her hubby with only 2 of their brood of 9 kiddos!
My Dad at his Photography Best! He takes amazing pictures that are on display in galleries and such. You can check out his site by clicking HERE!
And my mom taking pics with my Dad! I aspire to take as good of pictures as they do someday.
By the time we made it to dinner, I was pretty hungry. I always have to remind myself that my body only needs the same amount of food each day no matter how hungry I get. Seriously, when you are starving, doesn't it feel like you could it a TON?! We ended up at Mary's Pizza Shack for some quick and delicious Italian food. I had two slices of bread and a side salad with the dressing on the side to start.
For may main dish, I spaghetti with a gigantic meatball (I had 1/2 the pasta and 1/2 the meatball)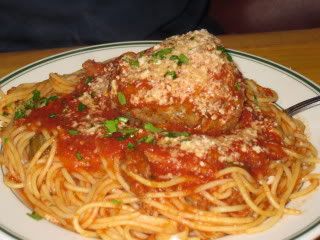 And, that was how I spent my Saturday! What did you all do this weekend?