My Sushi Mambo lunch completely rocked and kept me full until dinner – yeah for calories saved! Dinner tonight was a pretty tasty recipe from the 30 day Jump Start Book ~ Sesame Chicken with Noodles. I couldn't find the recipe online (but it's in the Jump Start Book) so I will show you the recipe through pictures with the changes I made!
Prep 4 oz of your favorite Multi Grain Pasta. I used Ronzoni Healthy Harvest tonight ~ it wasn't bad, but, I have to say I still prefer the Barilla Plus more!
You want to make sure that you cook it a little "firm" – maybe about 8 minutes as it will cook a bit more at the end of the recipe.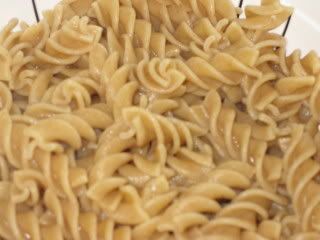 As your pasta cooks, chop up all your veggies (red & yellow peppers, cabbage, onion) and saute them in about 2 tsp canola oil over medium high heat for about 8 minutes or until soft.
Remove your veggies, combine them with the pasta and set them aside.
Heat up 1 Tbsp of sesame oil and add your aromatics (garlic, ginger, green onions, cilantro) with 3 Tbsp chicken broth. Cook for about 1 minute.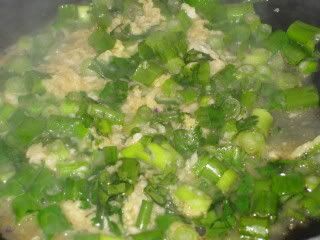 Add in your 12 oz of thinly sliced chicken breast, 2 Tbsp Soy Sauce & 1 Tbsp Hoisin Sauce and cook about 3-5 minutes or until your chicken is almost done.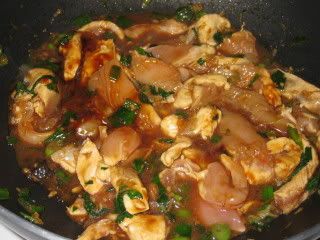 Add back in your veggie/noodle mixture with 1/2 c chicken broth and cook for 3 minutes.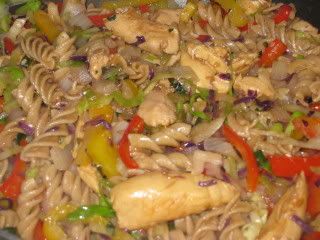 Remove from heat & top with toasted sesame seeds and sliced green onions.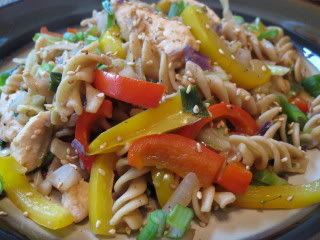 You get 1/4 of the entire recipe for 280 cal, 24 g protein, 32 g carbs, 5 g sugars, 8 g fat, 2 g sat fat, 45 mg cholesterol, 6 g fiber, 420 mg sodium
I LOVE spicy asian food if you haven't noticed so I made sure I drizzled some Srirachi Hot Sauce on top of my sesame chicken noodles and served it up with 8 oz fat free milk & a super sweet and juicy organic pear.
I am off to fit in my Biggest Loser Jump Start Strength Workout as I finish the show – it is such an awesome motivator!!! Here is the lowdown on today's workout (so glad there is no cardio – yahoo!)
3 sets of 12-15 reps each:
* Squats
* Rear Lunges
* Side Lunges (each side)
* Romanian Deadlift
* Plie Squat
* Static Stretching: Hip Flexor, Hamstring, Hip & Glute Stretch, Inner-Thigh Stretch
By the way, just in case you didn't see it yet, be sure to check out my Annie's Mac & Cheese Giveaway ~ you definitely do not want to miss out on your chance to win 1 of the 4 fabulous Mac Packs!!! Good luck ~ you have until Thursday night to enter!
Have a fabulous night all I can't wait to see who the final 3 Biggest Losers will be ~ Go Green!!!!