My Mango Madness smoothie really didn't hold me over very long this morning. After about an hour and a half I was pretty sure my stomach was going to eat itself. I think the difference in using lowfat milk versus lowfat greek yogurt is pretty big for keeping you satisifed. I managed to hold out until snacktime and had a banana.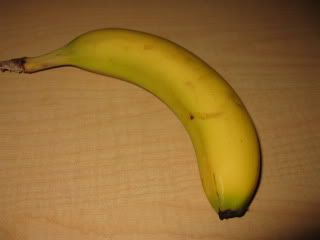 45 minutes later I was STILL hungry. So, I had a couple of bites of my lunch since I knew too much would throw off my spinning class. No Biggest Loser barfing moments for me. By the way, Spinning was awesome today! I wish I knew the secret to having those perfect workout days where you just feel like you can go for hours.
I came back to an amazing lunch that I prepared last night!
Sesame Chicken with Soba Noodles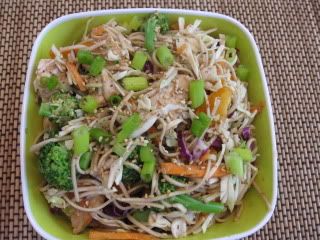 5 oz grilled chicken marinated in Easy Lime Marinade
1/2 orange bell pepper, thinly sliced
1 heaping cup cole slaw cabbage mix w/carrots
1 sliced green onion
3 oz Organic Soba Noodles
5 broccoli florets
Ginger Sesame Dressing (possibly the most flavorful dressing I've ever had)
1 Tbsp roasted sesame seeds
Freshly Ground Pepper
1. Marinate your chicken for 30 m to 2 hours and grill for about 20 minutes.
2. Prep your veggies and put a pot of water on to boil.
3. Add the soba noodles and broccoli cooking for ONLY 3 minutes, drain and run under cold water.
4. Mix everything together reserving the scallion and sesame seeds for toppers.
The star of the show was the soba noodles AND dressing! I used Organic Soba Nooldes (Buckwheat) that I found at a local grocery store in the health food section.
I LOVED this salad and would totally make it again! It would be fantastic with some crushed peanuts added to it as well. You end up with equal parts cabbage and noodles but in the end, it seems like all noodles as the cabbage wilts.
Perfectly cooked, crisp broccoli that cooked with the pasta.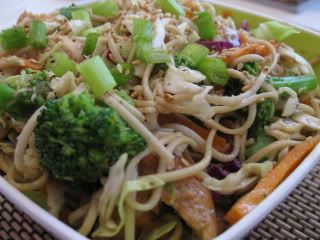 Presented in the super cute bowl that The Husband got me for Easter.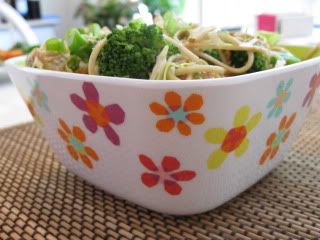 The best part is I am finally full and content!!! Yahoo! Tonight I have the fun task of reorganizing our freezers. I think the one in our kitchen is all done 🙁 so I am going to see if I can salvage anything out of it – such a bummer since we just stocked up our other freezer with a Sam's Club run *sigh* I suppose the GOOD part of it all is I get a new fridge!!! 😀
Have a fantastic afternoon all ~ see you all later tonight!