Tonight the 30-day Jump Start called for non-other than Fish! Are you surprised? Really, are you? I tried convincing myself ALL day it's only one day, you can do it, seriously – don't mind you've eaten it like 10 of the 30 days, you can do it! Then, I had a brilliant idea….Shrimp is like fish so it all counts the same in the end, right?! Ok….well, it's higher in cholesterol but Salmon is higher in fat….so it's a tie ~ see, Shrimp = Fish! Good logic, right?
Now that I've completely confused you, I will tell you how dinner went down tonight. I decided to make my Healthy Version of Shrimp Scampi. You can click HERE to get the recipe from when I made it before – it's awesome and only 3 WWP per 6 shrimp serving! I had 2 servings (6 WWP) to count as my 5 oz of fish on the 30 JS diet.
1/2 cup of TJ's Organic Brown Rice that is in the freezer section – cook it for 3 minutes and tadah! This is the ONLY brown rice I can get The Husband to eat – it's THAT good.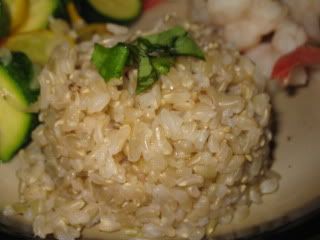 For veggies, I took all that fabulous farmer's market squash and carmelized it in a little olive oil. Seasoned it with salt, pepper and topped it with a little parmesan. Here was the result – so tasty and colorful!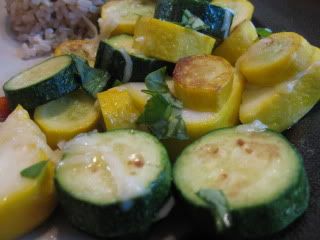 All together with 8 oz of fat free milk & fizzy water – it was such a fast dinner that I looked forward to.
I may have had one of THESE cookies from last night too but I can't remember since I don't have any pictures as proof 🙂
SPEAKING OF DESSERT ~ Have you all seen THIS dessert from the SELF Dishes Magazine that came out a few years back? (Yes, I have it too lol). It came out this week in their newsletter and reminded me I STILL need to make it!
Ok – maybe not my best Jump Start day….It sort of feels wierd to be done – I am excited to weigh in and measure tomorrow but at the same time sad it's all over.
I promise a full review of the Biggest Loser 30-day Jump Start Diet coming up soon – probably tomorrow night. For now I am off to read my new book and zonk out!
See you in the morning!