Hey everyone I am Guest Posting over at Meals & Moves today and I am pretty sure you are going to LOVE this recipe!!! It's fast, colorful, sweet, spicy and just plain good!
Shrimp Skewers w/Spicy Mango Dipping Sauce
** You can make this VEGAN by using Tofu, a meat substitute or leaving the meat option off and replacing it with POTATOES.
Grilled to perfection.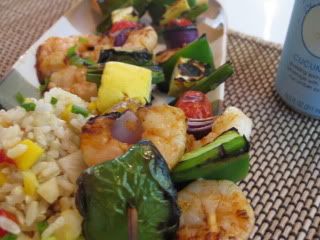 Did I mention that there are hardly any dishes to clean up after!  I <3 my grill 😀
What are you waiting for? Head over to say Hi to Janetha and get this recipe – you know you want it for dinner 🙂