I am SO PROUD of my recipe creation tonight. I wanted to make something fun, fruity, colorful and light for dinner after our heavy lunch. Tonight I made up another recipe in under 30 minutes that was full of flavor and fun to eat. I LOVE taking little bites off skewers as you chow down. Plus I FINALLY found a use for my cool plate I've had for awhile 😀
Shrimp Skewers w/Spicy Mango Dipping Sauce
** You can make this VEGAN by using Tofu, a meat substitute or leaving the meat option off and replacing it with POTATOES.
1 lb raw shrimp, peeled & deveined
1/2 tsp paprika
1/2 tsp chili powder
1/2 tsp cajun seasoning
Dashes of sea salt & pepper
1 clove garlic, minced
1/2 lime juiced
1 Tbsp Extra Virgin Olive Oil
1 1/2 cups cherry tomatoes (about 12 ounces)
1 medium red onion, cut into 1 1/2-inch pieces (about 1 cup)
1 medium green pepper, cut into 1 1/2-inch pieces (about 1 cup)
1 summer squash, cunt into 1 1/2 inche pieces
4 asparagus, cut into 2 inch pieces
Other 1/2 of lime, juiced
1 jar TJ's mango ginger chutney
1/4 cup chopped green onions
2 tablespoons low-sodium soy sauce
Pinch of crushed red pepper flakes
Preheat Grill or broiler.
Combine shrimp through olive oil and set aside to marinate while you cut up the vegetables.
Thread tomatoes, onion, shrimp, pepper, squash and asparagus alternately onto each of 8 skewers. Pour remaining sauce of shrimp skewers and you are ready to go.
If using the oven, Broil 4 minutes or until shrimp are done, turning once.
If grilling, grill for 3 minutes on each side or until shrimp are opaque.
Combine remaining lime juice, chutney, and remaining ingredients in a small bowl, stirring well. You may want to blend the chutney sauce if it is too chunky. Sprinkle with additional red pepper flakes and green onion, if desired.
Serve sauce with skewers.
Makes 4 servings, 2 skewers with 1/4 cup sauce (4 WWP each).
Here is what they looked like getting ready to go on the grill.
And, coming off the grill ~ grilled to perfection.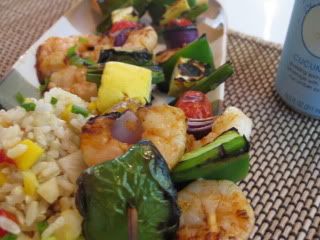 I had a few extra shrimp that I grilled all on one skewer.
And dipped them in the Spicy Mango Chutney.
I made up a quick, Tropical Brown Rice to go with it. It's so simple.
Heat up one packet of Trader Joe's Frozen Organic Brown Rice in the microwave for 3 minutes.
Add in 1/2 cup Tropical Salsa (you can buy or make your own). It's simple to make your own ~ combine: Mango, papaya, red peppers, cilantro, lime juice, jalepeno and jicama for crunch
Mix in 1-2 sliced green onions and add sea salt/freshly ground pepper to taste.
All together with a new Organic Cucumber Sparkling Water I was trying out to get ready to get into the "spa" spirit.
I honestly thought the fizzy water was super funky ~ maybe I've used too many smelly lotions, but, the taste of cucumber melon didn't really seem like something you should be eating. However, to be a good review, here are some pictures. You can click any of the pictures below to make them bigger.
Alright all ~ I am off to read my Bikini Book and "pretend" to watch Righteous Kill with The Husband. I wish we had ONE more day off – another 3-day weekend….*sigh*
Just a few more hours for your chance to score some FREE GNU BARS. Click HERE for your chance!