Tonight's dinner was so fast, easy and pretty darn tasty if I do say so myself. The best part is there were barely any dishes to do since everything was pretty much done on the grill.
Ingredients




Avocado Salsa:

1 small onion, quartered
1 jalapeno, quartered, seeds optional (or 1/2 green bell pepper quartered & dashes of Tabasco)
1 garlic clove, smashed
8 oz canned Tomatillos, drained
1 avocado, peeled, seeded, and cut into 1 inch cubes
1/2 cup cherry tomatoes, halved
Juice of one lime
1 1/4 teaspoons kosher salt
1/4 cup loosely packed fresh cilantro leaves, coarsely chopped
Shrimp:

1 tablespoon olive oil
1 teaspoon chipotle or blended chili powder
1 teaspoon kosher salt
1/4 teaspoon freshly ground pepper
1 garlic cloved, minced
juice of one lime
1 pound medium shrimp (about 20), peeled and deveined
8 corn tortillas
8 sprigs cilantro for garnish
2 limes, cut into wedges
Directions

Put the onion, jalapeno (or bell pepper/hot sauce), and garlic in a food processor and finely chop. Add the tomatillos, /1/2 the avocado, and salt and pulse until chopped but still chunky. Transfer to a bowl and stir in the other 1/2 avocado, tomatoes and cilantro.
Heat a stovetop or outdoor grill to medium-high. Mix the olive oil, chipotle or chili powder, garlic, lime juice, pepper and salt in a large bowl. Add the shrimp and toss to coat. Use a grill basket or bamboo skewers to thread the shrimp and grill the shrimp until translucent, about 1 1/2 to 2 minutes on each side.
Grill tortillas, until slightly charred and pliable, about 20 seconds per side. (Alternatively, wrap in a damp paper towel and heat in a microwave.) Spoon sauce on the tortilla, then top with about 2 or 3 shrimp and a sprig of cilantro. Serve 2 tacos per person, with a lime wedge on the side.
I had 3 amazing shrimp tacos with avocado & tomato salsa verde. I also had 3 extra shrimp on the side (this was about 1 bamboo skewer's worth).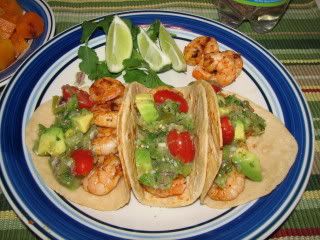 Complete with a side of butternut squash that I wraped in foil with a little olive oil, sea salt, pepper and roasted it on the grill. I served it up with Fizzy Lime Water for the perfect dinner.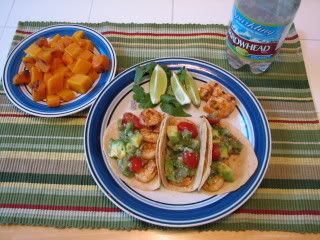 This all went together in about 30 minutes. I really think it helps to use good quality corn tortillas. I sometimes use chile lime, however, this time I just old fashioned corn.
Off to watch The House Bunny with the Husband. Have a great night all!