I absolutely LOVE using my crockpot – there is nothing like coming home and having dinner ready. A few weeks back I picked up a couple of Cross Rib Roasts that were on sale ~ $5 for 3 lbs. I had this recipe in mind when I bought them – It's so easy and tasty but the best part is it gets better each day as it marinates more.
Slow-Cooker Beef-and-Bean Burritos
1 (2-2-pound) Beef Roast or London broil
3-4 Tbsp of Veggie Terrain's Taco Seasoning (don't shoot me for using it on meat :o)
Cooking spray
1 cup chopped onion
1 tablespoon white vinegar
1 (4.5-ounce) can chopped green chiles
1/2 jar of your favorite salsa – I used TJ's Double Roasted salsa
1 (16-ounce) can fat-free refried beans
12 (8-inch) fat-free flour tortillas (I used Mission Life Balance)
1 1/2 cups (6 ounces) low fat shredded Monterey Jack cheese
1 1/2 cups chopped plum tomato
1 avocado, diced
a few sprigs of cilantro (optional)
Greek Yogurt for topping (optional)
Trim fat from meat; rub taco seasoning over both sides of meat. Place meat in an electric slow cooker coated with cooking spray; add onion, vinegar, 1/2 jar salsa and green chiles. Cover with lid; cook on low-heat setting for 9 hours. Remove meat from slow cooker, reserving cooking liquid; shred meat with two forks. Combine meat and reserved cooking liquid; stir well.
Warm beans and tortillas according to package directions. Spread 2 tablespoons beans down the center of each tortilla. Spoon a heaping 1/3 cup meat mixture on top of beans. Top each with 2 tablespoons cheese, 2 tablespoons tomato, and 1 tablespoon greek yogurt (sour cream); roll up and enjoy!
Yield: 12 servings, 11 points+ each, excluding optional toppers
I made up a fabulous, HUGE burrito with all the fixin's.
I also split a cheese quesadilla with The Husband ~ this is one of my most favorite things in life lol.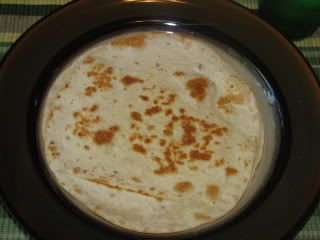 We have a TON of leftovers. I can see making this into crunch tacos and/or a big Taco Ensalada!
Off to enjoy The Biggest Loser….Woohooo!