This morning before the Farmer's Market I decided to snack on one of my favorite snacks of all time ~ Almond Butter with a banana. I broke out another Artisana Sample Jar ~ Organic Raw Almond Butter.
* You can click on any of the images to make them bigger.
I ate 1/2 the banana and left the other half to give samples to my co-workers.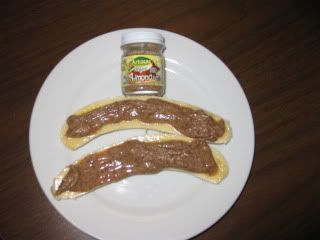 Of ALL the flavors this is the one I thought for sure I'd LOVE. Afterall, Whole Foods Almond butter that you grind right there is my favorite. However, this is the one flavor I've tried that I did NOT like at all. It has a really strong raw almond taste, similar to almond extract and reminded me alot of the almond paste you bake with. The co-worker's agreed.
For lunch, we took off to the weekly Farmer's Market ~ are you all seeing a trend yet? I couldn't resist picking up some amazing organic strawberries.
And The Bread Guy sold me on buying some High 5 Fiber Bread when he told me that this time they snuck in dried blueberries – YUM!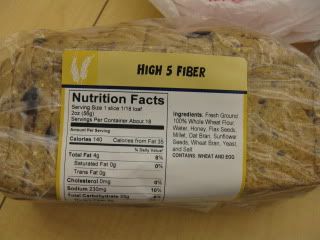 I must have seem overly excited over it all because he gave us the remainder of the sample loaf of cinnamon raisin to take with us for FREE. My Co-worker bought an entire loaf of this amazingly soft and sweet bread.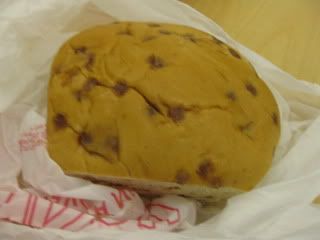 I immediately decided that this was going to be my afternoon snack along with a grande ff iced latte (no picture, I downed it too quickly!)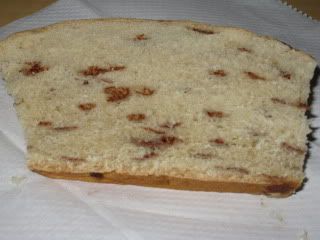 I HAD to slice up the rest of the loaf and give it away because this cinnamon raisin bread was THAT amazing ~ I could easily see myself eating the entire loaf.
On our way out, we passed my favorite Bolani Bread guys and I wasn't buying anything today. They never let you walk buy though without noticing them and I scored a FREESpinach Bolani Bread ~ Woohoo!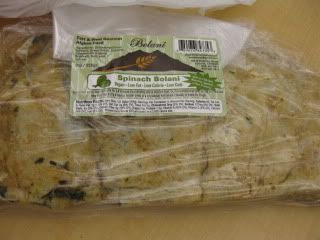 Yeah for free stuff. Speaking of FREE STUFF, I won ANOTHER GIVEAWAY. The rockin' Julie GoLean held a Big S Salsa Giveaway and I was a runner up ~ Yahoo! I picked the Fire On The Mountain Salsa to try out. I'll definitely let you all know how it is.
You all still have TWO PLUS hours to enter my Hungry Girl Cookbook & T-Shirt Contest Giveaway. Click HERE so you don't miss out.