We had such a fun dinner tonight. I have been wanting to make Snobby Joes with Butternut Squash Fries all week. The Husband learned from experience on Tuesday with the Surprise Tacos when I asked him if he wanted to have Snobby Joes with me. He said "Oh, you mean snobby with beans…." He did take a bite and said it was ok but was all too excited for his 7 minute Tri Tip he found at Costco lol. Anyway, here is how dinner went down:
Butternut Squash Fries
They are so easy to make. Preaheat your oven to 400 degrees. Simply cut your squash in halve then seed and peel it. Cut it into "fry shapes" sorta large but not too thick or they will not get crispy. Toss them in a bowl and spray with nonstick spray and sea salt even. I also line my baking sheet with foil and use a napkin to rub a little canola oil. Line them up into a single layer and bake for 30 minutes or until crispy flipping half way through.
Here is what they looked like going into the oven:
I think next time I need to make them bigger as they shrunk quite a bit while cooking. So maybe I need to make steak fry shapes. Here they are all done – so good and tasty!
I made sure I stole a couple of The Husband's Home Fries to compare: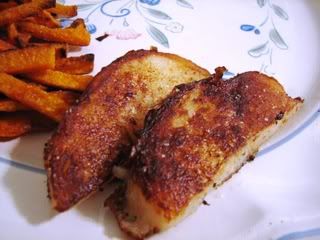 I really enjoyed the Snobby Joes and found them to be very filling. I served them open faced on the Gluten Free Vegan Rice Pecan Bread I bought. I topped them with a little soy cheddar and put the "cheesy bread" under the broiler to get crispy before I topped them with the Snobby Joes Mix. I think they are pretty tasty and will get better the longer they sit as the flavors blend together.
And all together served up with Trader Joe's Colorful Chard – this is probably one of my favorite veggie mixes.
I have this over two hours ago and I am still very content/satisfied. I prepped my "fun" breakfast for tomorrow so be sure to check in for my Day 5 recap and breakfast. It's another recipe from Veganomicon~ I LOVE this cookbook. I may just have to buy it.
Have a great night all!