This morning my co-worker offered up some of her homemade Banana Nut Chocolate Loaf. I resisted as long as I could before I had it for snack.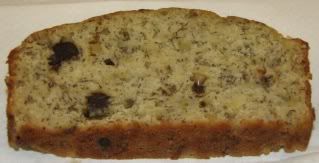 It was absolutely divine! I LOVED finding the huge chunks of chocolate and the roasted walnuts….so amazing!
But, then, I received an email that made me have part 2 of my morning snack. I had to participate in a Taste Testing and say which version I liked best and why.
Shortly after that we were off to lunch at Gillwood's Cafe. I know I am always posting about this place but really, it IS that good and Rachel wanted it for her birthday. You can't arge with a Veggie Burger that looks this amazing.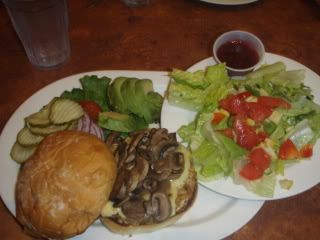 I had a Veggie burger topped with pepper jack cheese, mushrooms, AVOCADO!, all the veggies on top of a home made bun and a side salad with fat free raspberry walnut vinaigrette. Fabulous and worth repeating EVERYDAY – really. LOL
We made a trip to the post office on the way back to mail out the Annie's Prizes and then it was back to the grind. I can't wait for Cake Time….that is up next.