I just opened up my photos to upload dinner and this is what I found in my picture file. He will probably shoot me for posting these, but, I can't resist!
The Husband is such a clown! He is being exceptionally sweet this week in his clowny sort of way because tomorrow is a big day for us. I will tell you all about it in my morning post.
For dinner, we used our Slow Cooker Beef we made up last night to make crunchy beef tacos. I took 2 organic blue taco shells and layered in the beef, salsa, cheese, tomato, avocado. It was really crunchtastic!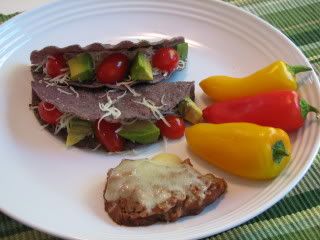 With a little bit of leftover fat free beans & cheese plus crunchy sweet mini peppers.
Tonight we did a little shopping to get ready for our trip to Lake Tahoe this weekend. The fun and celebrating all begins tomorrow….I can't wait to share it with you all 🙂
GIVEAWAY ALERT: Hangry Pants is having an Awesome Earth Day Organic Stonyfields Giveaway. Be sure to check it out or wait, don't, because I would LOVE to win! I LOVE Stonyfields!!!
Have a great night and I'll see you tomorrow for (my Friday) on Thursday!