Today's Jump Start exercises focus on a 30 minute workout of Cardio plus Mobility/Body Weight Exercises. I have decided to take the role of the "Challengers" for all exercise for the 30 days.
My workout today was:
45 minutes of walking (goal of 2o minutes met!)
Mobility Exercises are done 2 times (goal to complete each series in 1 minute)
*Chest & Back Opener
* Dynamic Hip Flexor Stretch
* Dynamic Hamstring Stretch
* Dynamic Calf Stretch with Lat Pull
* Figure 4 Hip Opener
55 minutes total! I actually enjoyed the Mobility Exercises – it was like getting some nice, deep stretches. I hope the workouts stay this easy, but, I doubt it….they are probably just easing me into it and then, they will bring it like they do on the show, right? 🙂
My dinner was really awesome and it only took minutes to make. Added bonus – I only had 3 dishes to wash and no pans! Everything was cooked on the grill.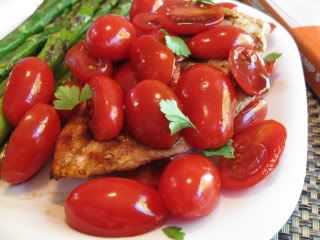 5 oz grilled chicken breast seasoned w/sea salt & freshly ground pepper
Topped with 1 cup of Cherry Tomatoes, 1 Tbsp Balsmic Vinegar and some parsley (I didn't have any basil or I would've used that).
I grilled up 8 asparagus stems sprinkled with some sea salt, pepper and nonstick spray.
And, yet, another 8 oz glass of fat free milk. I really feel like I am doing my bones some good!
I really liked the mental aspect of day 1. Each day the challenge gives you 3 things to focus on ~ mental, physical (workout) and being healthy (your eats). Today is all about making up your mind now and not "trying" but actually doing it.
The quote I LOVED the most was from Coleen Skeabeck (the blonde in last year's season) about reaching her goal and developing a new healthy lifestyle. The book uses it in context of the 30 days…
At the end of the 30 days, you will feel "The happiest thing you can think of times a thousand!"
That just makes me smile each time I read it and I have a feeling I will remember that whenever I am tempted to eat something I should not or to push through a workout.
Tomorrow I will post my Body Bugg recap results along with all my calories for the day (hint: I followed the book exactly today 1,480!)
Up next ~ The Go Green Giveaway Announcement!