Do you all remember when I first told you about the healthy 70 Calorie 1 WWP Sonoma Crisps snacks last week? You can click HERE to check out review #1 and to learn more about these fabulous snacks!
A few of you have asked where you can find these products. I contacted Sonoma Crisps and here are a few of the locations that they provided.
* Retail stores are: Whole Foods, Oliver's, Draeger's Produce, Andronico's, Mollie Stone's, Consentino's Markets, PW Markets, and it will be entering Lucky's very soon too! Some Southern California Stores are Gelson's the Super Market and select Marukai Stores
* You can always order their products online via amazon.com by clicking HERE.
They are working on getting their products out to everyone so if you have any locations you want to see them in, leave a comment here and I'll pass it along.
I have been anxiously awaiting doing my second review of the other two Sonoma Crisps samples that I received. Today I tried the last of my two samples (I am going to miss these!)
Golden Delicious:
With the same great nutritional facts:
And quite possibly my ALL TIME FAVORITE – Raisin Crunch!
This is the only product that includes 2 servings per bag, but, for 120 calories (2 WWP) of crunch – they are completely satisfying. You could spend ALOT of time crunching down one full bag or even half a bag of these!
We also included a random "Appple Chip" selection in the sampling as one of my friends (who will remain nameless lol) said she liked them. Here is the brand that is definitely not as good of a deal ~ "fried" in oil with corn syrup added and with some not so great ingredients. See for yourself.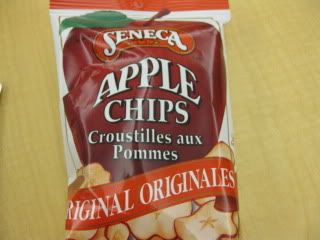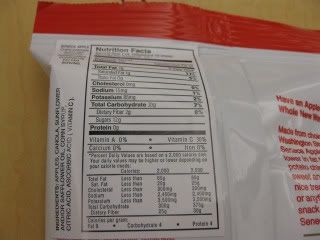 I still LOVE the fact that the entire bag fills up each 1 cup container! I lined up all the samples for taste tests in this order – click any of the images to make them bigger.
I was nice today and shared with my co-workers. We all tried them and agreed that the Raisin Crunch is the best! Even my non-raisin loving co-worker LOVED them! They are super crunchy and light – they honestly "pop" when you crunch on them. They would be such a great addition to salads for a healthy switch from croutons or dried fruit.
The Golden Delcious is tasty but we all agree that the Cinnamon Crisps are the best.
The Apple Chip brand was only liked by the nameless friend 😀 To me they honestly do not really taste like apples and you can taste the oil. Plus, some of them include stems – bleh! I honestly feel like the Apple Chips are a "fake" health food – you think you are eating something good for you because it's a fruit, but, in all honesty, they are just another form of a potato chip – fried in oil.
With Sonoma Crisps – what you see is what you get! All natural, healthy apples and raisins without a single drop of oil added thanks to the slow bake process that makes them crunchy naturally!
I decided to mix 1/3 of each sample into some lowfat Trader Joe's granola for a satisfying mid morning snack.
I think Sonoma Crisps Rock and cannot wait for them to "slow bake" other things. Just imagine the possibilities – yum! You all definitely need to add these to your new products to try list and be sure to let me know if you find them, try them, like them!