I was so excited when Sonoma Crisps contacted me to do a product review of their products. I was pretty much sold when they said the entire bag is ONLY 70 CALORIES, 1 Weight Watcher Point!

My sample pack included 4 packs of their healthy snacks. It took everything in me to refrain from opening them all up the other night when we got home. But, I refrained so I could do a proper review.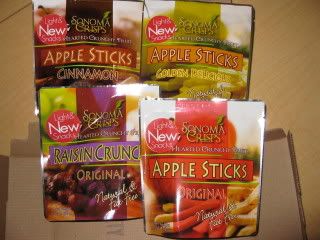 * Apple Sticks Original
* Apple Sticks Golden Delicious
* Apple Sticks Cinnamon
* Raisin Crunch
I really wanted to try all flavors at once but found it hard to justify 280 calories in Apple Sticks. You all may have thought I lost my mind at that point! So, today, I picked the two flavors I wanted to try the most.
* Apple Sticks Original & Apple Sticks Cinnamon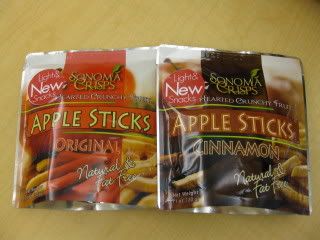 The nutritional specs are pretty good on their products. They are fairly clean with the exception of fructose (aka sugar) being added. I think the fructose used is minimal as the grams of sugar in a small apple are around (15g /4 tsp naturally occuring sugar) and the entire package has 16 g of sugar for 1 1/2 apples! I definitely think that is "in moderation" and not something to stop you from picking up these tasty treats!
The nutritionals on Apple Sticks Original are just as promised:
And the Nutritionals on the Apple Sticks Cinnamon ~ YUP that is for the ENTIRE bag!
Their Apple Sticks are "slow baked" not dehydrated or fried – there is not a single drop of oil in any of their products ~ how awesome is that?! But, wait, it gets better. Each bag contains the equivalent of 1 1/2 apples. Now that is a really nice size portion for only 70 calories/1 WWP.
I have to admit – I absolutely LOVED the "fry" shape!
I took 1/2 of each bag for my sample and asked some of my friends/co-workers to tell me what they thought with the other half.
I have to say I ABSOLUTELY LOVED THEM!!! They are crispy and snappy like chips, yet, light at the same time. I had a hard time choosing which flavor I enjoyed the most, but, I think I liked the hint of cinnamon the best.
All of my co-workers & two other Weight Watcher Friends LOVED them. We all thought they were the perfect snack for the afternoon when you want something sweet. For 70 calories it is a better alternative than M&M jar that shouts my name every day!
I definitely think you all should stock up on these and keep them on hand. They would be perfect to carry in the car, your purse and/or keep at your desk. It is a healthy, sweet snack, that you can not only feel good eating, but, you can feel good giving it to your kids too!
They sell them at your local grocery stores or if you cannot find them there, click HERE to buy them on Amazon.com.
I will be posting a review on the other two flavors soon ~ be sure to check back for that! I am intrigued by the raisins for sure – they could be a fun addition to cereal or trail mix……Ohhhhh, actually, I could see adding these to your own homemade trail mix too!