Today's lunch I made specifically for my awesome Veganish friend, Kirwin! (Her site is fabulous so be sure to check it out if you haven't!) I am pretty sure when she reads this she will run out and buy all the ingredients to make it for dinner tonight. 🙂 I was inspired to make these after seeing the recipe in HOW IT ALL VEGAN. Here is my spin to their recipe.
SPICY VEGAN BLACK BEAN BURGERS
These are so simple to make and so full of flavor ~ it's an awesome change from your standard veggie burger. If you wanted to "spice it up" a bit and still keep it VEGAN, add a slice of Veggie Shreds Pepper Jack Cheese ~ Yum!
Ingredients:
1/4 cup whole wheat flour
1 small onion, diced
2 cloves garlic, minced
1/2 tsp dried italian seasoning
1 small hot or jalapeno pepper, minced
1 tbsp olive oil
1/2 medium red pepper, diced
1 15 oz can black beans, drained and rinsed
1/2 cup Trader Joe's Fire Roasted Corn, thawed
1/4 cup bread crumbs
1/4 tsp cumin
1/2 tsp salt
2 tsp chili powder
2 tbsp chopped cilantro
Optional toppings:
* Soy Pepperjack Cheese
* Ketchup
* Spicy Mustard
* Avocado
* Tomato Slices
* Spinach
* Buns or pitas
Or mix up some salsa with ff greek yogurt for sauce and wrap it up in a wheat tortilla with all the veggies you like.
1. On a small plate, set aside flour for coating. In a medium saucepan, sauté the onion, garlic, oregano, and hot peppers in oil on medium-high heat until the onions are translucent. Add the peppers and sauté another 2 minutes, until pepper is tender. Set aside.
2. In a large bowl, mash the black beans with a potato masher or fork. Stir in the vegetables (including the corn), breadcrumbs, cumin, salt, chili powder, and parsley. Mix well. Divide and shape into 6 patties.
3. Lay down each patty in flour, coating each side. Cook on a lightly oiled frying pan on medium-high heat for 5-10 minutes or until browned on both sides.
Makes 5 patties. You can eat them up or freeze them for another time. Each patty is only 4 points+ without the toppings – woohoo!
Start off by sauteing your veggies for about 4-5 minutes or until soft.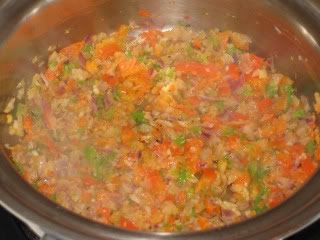 While your veggies are sauteing, use a potato smasher to mash your black beans.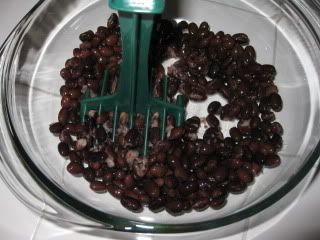 Dump in the remaining ingredients.
Stir to combine and form your black bean patties.
Dip your black bean patties in a little flour on each side.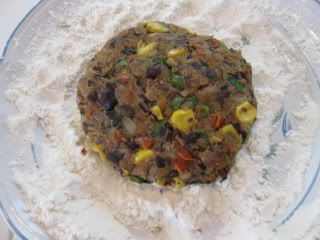 Add them to your pre-heated nonstick skillet with the 1 Tbsp Extra Virgin Olive Oil.
Cook on each side about 3 minutes or until lightly browned.
Remove, add a bun or not plus your favorite toppings and enjoy!
I dressed mine up today with spicy mustard, kethcup, tomato and AVOCADO. On the side I had another TJ's Lowfat Spicy Spinach pizza for 3 WWPs.
And for crunch, some organic baby carrots. I took the easy way out today instead of peeling my own 🙂
Dessert was a big 1 c/1 WWP serving of cherries!
I was really wanting something sweet to drink along with this so I spiced up my Orange Fizzy water with an Honest Ade Orange Mango.
I used just a splash in my fizzy water – it was pretty tasty and a nice change, however, I think I still prefer REAL juice better when mixing up my Fizzy Splash Water.
Here is my fun lunch all together – I have to admit I feel like this is one of the most satisfying and fun lunches I have had in awhile ~ full of flavor, crunch, sweet and contentment! I am already thinking of how I'll be making this into a wrap for tomorrow lunch ~ Yum, can't wait!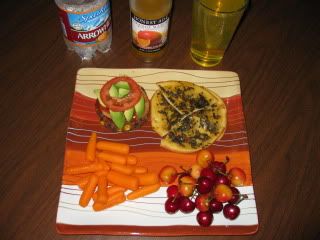 Since I have already made this post HUGE, I will save my farmer's market finds and snacks today for a separate post.