Happy Spring all! I am so excited that Spring is finally here and it all begins today with this fabulous weater we are having in California. It is seriously the perfect weather to me ~ 70 degrees, sunny, not too hot and not too cold. It's perfect for lounging in a hammock…..awww, I wish!
For breakfast today, I decided it was an oats kind of day. I made Apple Cinnamon Oats.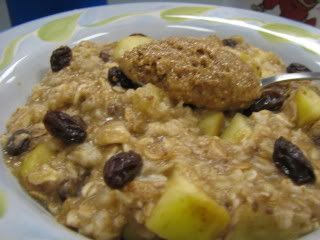 In the mix:
1/2 cup Quaker Old Fashioned Oatmeal
1 cup water
Dash of Cinnamon
1 Tbsp Ground Flax Seed
2 Tbsp Organic Raisins
1/2 Fuji Apple, Chopped
1 Tbsp Organic Natural Apple Butter (stirred in after cooking)
1 Tbsp Freshly Ground Organic Almond Butter on my spoon to be eaten with every bite
All ready in under 5 minutes – cooked in the microwave. So simple and so satisfying. I served it up with some Starbuck's Decaf and a full SIGG bottle of water.
Enjoy the first day of spring ~ I know I will. I have a big todo list today, but, I plan on getting alot checked off before my weekend starts. It is the perfect way to lead into the weekend as it leaves me more time to have fun.