The Husband is absolutely adorable whenever I break out a Tri Tip. He seriously gets so excited like a little kid and can seriously eat an entire Tri Tip himself. Well, tonight he took it to a whole new level ~ He actually cooked it for us and cut up all all the veggies we needed for our salad all while I was driving home from work. I LOVE him! All I had to do was my potato side dish and provide a little guidance along the way. It doesn't get much easier than that!
The Husband actually stocked up on Tri Tip when our local store had it on sale for $6 for an entire 3 lb Tri Tip (he bought as many as we could fit in our freezer ~ so funny!). So, tonight we broke out one and decided to use the super cool seasoning we bought when we went to the Ca Home and Garden show a few weekends back. The seasoning is hand made by a local family (The Riccomi Family) and the one we used tonight is the Primo's Gourment Food Grill Mix Seasoning. You simply use it as a rub and that is all you need.
For sides, I sauteed up some mushrooms in about 1/2 Tbsp butter and 1/2 Tbsp Extra Virgin Olive oil. Once browned, I sprinkled a little garlic salt, freshly ground pepper a splash of Pinot Grigio White Wine and Annie's Organic Vegan Worchestshire Sauce.
Together with the steak, the result was amazing!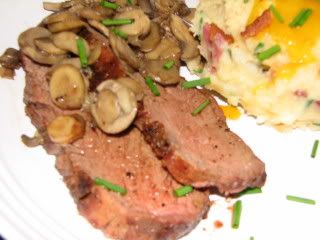 Nothing goes together better with good steak than some good mashed potatoes. I decided we needed to make up some healthy, lowfat Cheddar, Bacon Mashed Potatoes. These are so easy to make and so flavorful you will not miss the butter. The key is to boil them in chicken broth (veggie broth if you want it vegetarian).
Cheddar Bacon Mashed Potatoes with Chives
5 medium red potatoes, cut into 1-inch cubes
32 oz chicken broth or enough to cover your potatoes
2 cloves of peeled garlic
4 oz lowfat sharp cheddar cheese
4 pieces of cooked bacon (I used Trader Joe's & turkey bacon is awesome too)
1/2 cup chopped chives
1/2 cup ff greek yogurt
salt & pepper to taste
Boil your potatoes and garlic in your broth for about 15 minutes or until soft. Drain broth reserving about 1/4-1/2 cup to add back into the potatoes.
Smash the potatoes with the greek yogurt and reserved broth. Stir in the cheese, bacon and chives reserving just a little of each to top your taters with. Salt and pepper to taste.
Makes ~ 8 servings, 1/2 cup each
Calories 145, Total Fat 3 g, Saturated Fat 1.2 g, Polyunsaturated Fat 0.3 g,
Monounsaturated Fat 1.1 g, Cholesterol 5.7 mg, Sodium 200 mg, Potassium 610 mg
Total Carbohydrate 22 g, Dietary Fiber 2 g, Sugars 2 g, Protein 8.5 g
** You can make this recipe Vegan by using soy cheese, fakin' bacon and soy yogurt or vegan cream cheese.
For our veggies, I had The Husband make up one of my favorites.
Cucumber Salad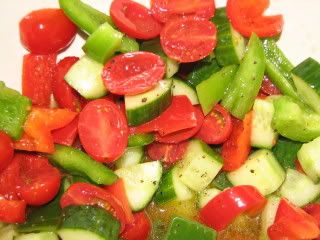 1 English cucumber, quartered
1/2 red & green bell peppers
1 container cherry tomatoes
1/4 cup white balsamic vinegar
1/8 cup olive oil
2 Tbsp honey
1/2 teaspoon sea salt & pepper
Mix all together and enjoy. You can pick and choose any vegetable you like. Sometimes we add onion or carrot or different types of bell pepper or even AVOCADO! This recipe is pretty versatile and it's great made up in advance.
Ok ~ All together here is my dinner for tonight (I had planned something else for the empty spot but forgot to make it – oops!)
And because The Husband was soooo proud I took a picture of his. He had this x's 2 and probably would've had more if I didn't tlel him I was telling you all what he ate 🙂 He is so lucky to have such a naturally high metabolism. I could only be so lucky.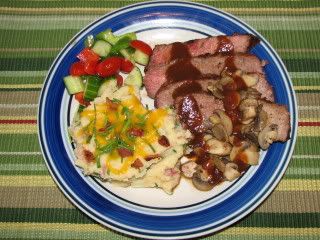 Don't forget to Vote for your favorite Bake Sale Item ~ there is only one more day left after tonight!
Get ready for my first Product Give Away going on tomorrow morning ~ You will definitley want to make sure you enter to win some of Annie's Goodies. I am having the give away in honor of the upcoming Blogger Bake Sale . This way you all can get a healthy stash of healthy treats before bidding on the treats in Meghann's sale! More to come…..