Happy Monday all! Last week I was out of oats and I did not realize how much I missed them until I made up a fabulous batch today. This breakfast really hit the spot
In the mix:
1/2 cup Quaker Old Fashioned Oats (healthy carb + fiber+protein)
1 cup water
1 Tbsp ground flaxseed (healthy fat + fiber)
4 strawberries (healthy carb)
1/2 banana (healthy carb)
2 Tbsp slivered raw almonds (healthy fat + a little protein)
Sprinkle of unsweetened coconut (healthy fat)
Drizzle of sweet cactus light agave syrup
I had also planned to have some eggwhites but my I dropped my container in the breakroom this morning – boooo!
I really love the Sweet Cactus Agave Syrups because they add a nice sweetness without having to use that much. I use maybe 1 tsp on my entire bowl of oats. Plus this is the only brand that is 15 calories per tsp versus the other brands that are 20. Why spend more on your calorie budget if you don't have to right?
This paired up perfectly with some hot decaf coffee and my SIGG water bottle. This week I am really focusing in on meeting my water requirements and rounding out my nutrtion. With each meal I always shoot for protein plus fiber & a little healthy fat(as this allows it to stay with me), and I pair this combination with some healthy carbs (fruits, veggies, whole grains).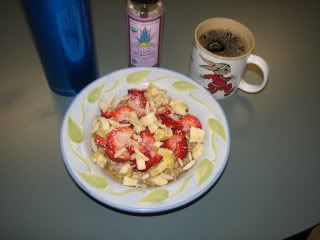 Ok – now that you all are feeling nutritionally informed 🙂 I am off to start my day. See you at lunch.
Today we are celebrating the March birthdays at work and we ordered Cold Stone Creamery Ice Cream Cupcakes….ahhhhhh, how do I resist that??