This is a recipe that I know we LOVE but I don't always make because they are completely addictive. I was thinking that something fruity was needed for the bake sale package since everything else is centered around chocolate. It is so simple to make and can be made up as mini muffins or bigger muffins. For todays trial, I made both.
Strawberry Muffins with Strawberry Butter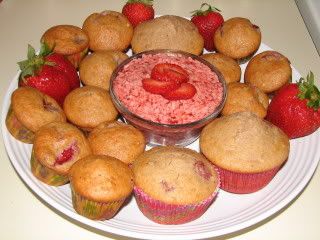 STRAWBERRY MUFFINS, 5 points+ each

1 (10 oz) Package Frozen Sliced Strawberries, thawed and undrained**
2 c Flour
2/3 c Sugar
1 ½ TBSP Baking Powder
¾ tsp Salt
2/3 c Milk
2 Large Eggs
1/3 c Vegetable Oil
Preheat oven to 375 degrees.
Stir together flour, sugar, baking powder and salt. Add strawberries, milk, eggs and oil until blended. Spoon batter into greased muffin pans (can use muffin liners), filling 2/3's full.
Bake at 375 degrees for 20 minutes. Remove from pan immediately.
Yields: approximately 12-14 regular size muffins or 24 mini muffins.
** You can make your own version of frozen strawberries by taking 10 oz fresh strawberries (about 1 1/2 cups) and halve them. Place the strawberries in a ziploc bag and add 6 tablespoons of sugar and 2 tablespoons of water. Seal the bag and slightly crush the berries by smashing them a little. Shake to mix and allow to stand until sugar dissolves.
STRAWBERRY BUTTER, 1 points+ per tsp

½ c Butter, Softened
2-3 TBSP Strawberry Jam
Stir together until blended. (I like using a beater to get it creamier). Serve with Strawberry Muffins.
That is really all there is to making these muffins. They go together quickly and get eaten up just as fast.
My afternoon snack was one of the BIG muffins and one of the MINI muffins with some of that fabulous strawberry butter all melted on while they were hot. Amazing! The Husband asked to have some put in his snack box for work so I am sure these wont' be around for long.
I am off to dip the peanut butter eggs in chocolate now ~ wish me luck.