Yesterday when I brought home all our goodies for the week, The Husband offered to cut up the huge watermelon (on sale at TJ's $4.49 each!) and cantaloupe. I LOVE this time of year because everything is coming into season and just tastes so amazing. So when my Jump Start snack called for an "orange" I knew I had to trade it in for some of this!
The watermelon is sooo juicy and sweet just like it is in the middle of the summer and the cantaloupe is perfectly firm and sweet ~ Yum! I think you will definitely see more of this as my fruit substitution this week!
For some protein and healthy fats, I had 2 Tbsp of raw walnuts as well.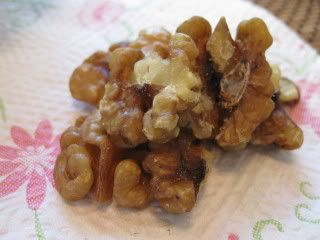 Our friends stopped by (the ones who had the baby on Easter!) to show off their new baby boy. He was soooo tiny – only 6 lbs but absolutely cute! I wanted to take pictures to share with you all but since they have to still send out their announcements I didn't think it would be right 🙂
Once they left and The Husband was off to work I did a little shopping at Target. When I got home, I decided tonight was going to be a "ME" night. I just got done pampering myself complete with a nice long hot shower, head to toe body exfoliation, a facial and a foot massage. In addition to taking/framing amazing photos, my Dad also makes Homemade Organic Soaps, Lotions, bath salts, etc. I used the Organic Shea Cream on my feet and they are absolutely doing the happy dance.
I also decided that although my Jump Start Book calls for Fish, Wild Rice with Toasted Almonds and Asparagus, it just isn't going to happen. I have plenty of leftovers from this weekend to eat up so they do not go to waste and it's ME night, so I am making another substituion. Tonight I am not cooking – it's a repeat of last night because I have already cooked 2 meals today (the other you will see tomorrow).
Pork Stirfry with Garlic Broccoli
and a side of 3/4 cup brown basamati rice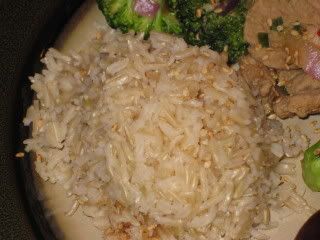 I will be washing it down with 8 oz of milk & having a plum for dessert if I am still hungry.
I am off to eat, then, read, relax some more and get to bed early!
Tonight's question: Do you all take "ME" time for yourselves? What do you do for your ME time? I would love to hear your ideas.