After spending way too long in traffic (yeah for carpooling ~ it does make time fly by faster!), I was completely exhausted by the time I got home. Yet, my day was far from over. I had to figure out dinner, do ALL our laundry, move some food from the outside fridge to the inside, shop for more stuff for the big day tomorrow and blog! Phew, that was ALOT to just type, but, I am glad to say we got it ALL done!
Ohhh and I learned a VERY important lesson today. Do NOT be lazy while waiting for your husband at Home Depot and lean on pressure treated wood. Not only does it give you splinters, it gives you an itchy rash on your arm! I'd take a picture, but, you all wouldn't think my food looks good after that. 😀
For dinner, I decided to work on "making freezer space". I pulled out the other two Kashi Thin Crust Pizzas we still had to try out ~ Mexicali Black Bean Pizza & Mushroom Trio & Spinach Pizza! You can check out my review of the first two by clicking HERE.
The first pizza up was the Mexicali Black Bean Pizza.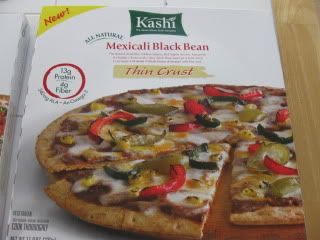 Check out the nutritionals ~ this just might be the best news yet! This pizza is only 210 calories, 4 WWP for 1/3 of the entire pizza!!! You save 1 WWP a serving – woohoo! (Thanks Mom for letting me know that!!!)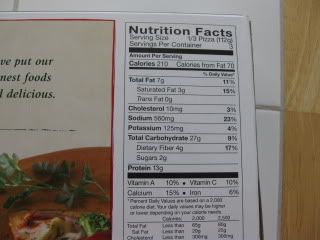 Going into the oven, it looks pretty tasty for a frozen pizza.
It smelled so amazing cooking ~ I couldn't wait for it to be done. Coming out of the oven, it looked as good as it smelled.
I absolutely LOVED this pizza! It reminded me of a burrito with smokey corn and red peppers but a crispy shell. The Husband, well, you can't take his opinion because he is just plain wierd! He thinks that anything with corn in it and not on the side is wierd. He still ate his 1/3 of it!
The next up was the Mushroom Trio & Spinach Pizza.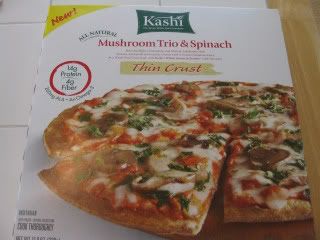 The nutritionals on this one are very similar to the others ~ 250 calories, 5 WWP for 1/3 of the pizza (2 slices if you cut it into 6 pieces!).


Going into the oven, I have to admit, it does look sorta sad for a frozen pizza – especially with the big green glob o spinach.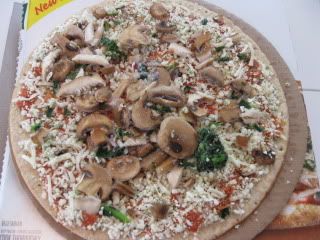 The appearance does get alot better when it comes out of the oven after cooking for a short 8 minutes. ( I STILL see the crazy glob o spinach though!)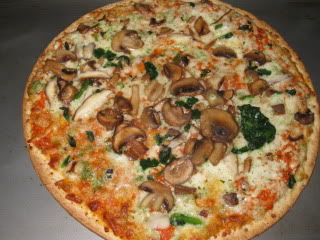 I LOVE mushrooms and I LOVE spinach. I really thought the Mushroom Trio with Spinach would be fantastic. But, I have to say it while it wasn't bad, it was my least favorite of ALL 4 thin crusts pizzas. It was sorta watery, no rich/cheesy and the mushrooms had a texture that reminded me of canned mushrooms. They have a strong cremini/portabella mushroom taste which I liked though.
Here is my FAVORITE part of the entire meal ~ My 9 Weight Watcher Point, 4 slices of pizza dinner! I cut both pizzas into 6 pieces and took 2 each from both.


Mushroom & Spinach Goodness…..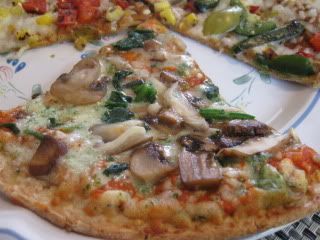 Mexicali goodness……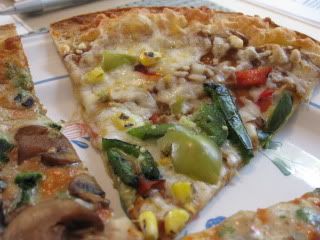 It was a FAST, FUN, and EASY dinner to make! I LOVE any dinner that gives me FOUR PIECES OF PIZZA for 460 cal, 9 WWP's.
The Husband picked out my dessert for me while being funny…..he put a York Peppermint Patty in my vitamin container and said if I was good and took my vitamins, then, I got a "treat".
He's funny! Have I ever shared with you all what I have to do to get him to take ANY vitamins at all? He won't take pill forms, but, he will eat gummies. Yup, they make adult versions of gummy vitamins…..oh and he gave himself a mint too!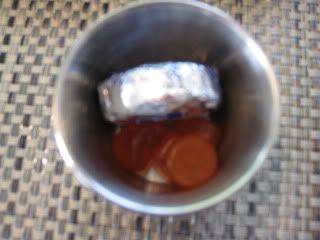 Mmmm, just imagine that combo – bleh!
Coming up next, my big challenge announcement!
Don't forget your GNU Bar giveaway entry ~ Click HERE!