My morning snack was amazing! I started off with a 2 point TJ's Organic 0% Vanilla Bean Greek Yogurt ~ I LOVE this!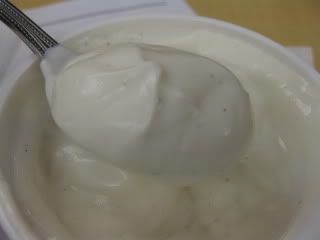 I also had 2 Tbsp of dry roasted pistacios (2 WWP)- yum!
My co-worker and I had to run some errands at lunch today and decided to grab lunch while we were out. It was sort of a celebration of completing the 30 days. We went to the local Taylor's Automatic Refresher. (We had to stop at the Public Market after!)
I LOVE Taylor's ever since The Husband took me there on our trip to the Castle of Love. Another fun fact ~ their food has been featured on The Food Network – it's enough to make you drool. It's pretty cute inside – there is a huge menu on the wall to choose from.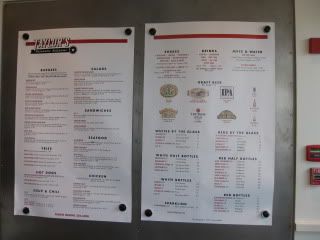 My co-worker picked my favorite sandwich there ~ The Ahi Burger and I picked Grilled Mahi Mahi Fish Tacos.
I had a little time while we waited for our food so I snapped some pictures. Here is what it looks like inside.
And you can sit in booths to watch them cook – so fun!
My order came with two awesome Grilled Mahi Mahi Tacos which I managed to eat about 1 1/2 and ate them using only 1 corn tortilla each, not 2.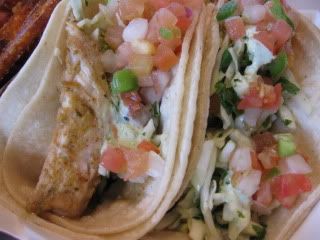 I also stole a few of my co-workers sweet potato fries – seriously, look how good they are.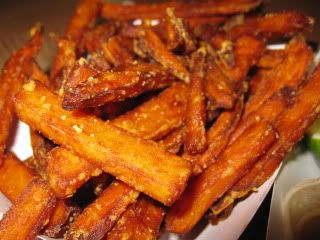 While at the counter I heard my co-worker talking about their mint chocolate milk shake (bleh to me) and then I saw IT! A homemade vanilla bean root beer float….This was definitely worth EVERY calorie and the extra working out I'll need to do to make up for it.
Everything they use at Taylor's is compostable and Earth Friendly – I LOVE that and wish more places that have alot of waste would catch on. It's pretty cool to see 3 different types of containers when you go to throw your stuff out. Don't worry, I am not going to take pictures of trash cans LOL….but, here is what it said on my root beer cup.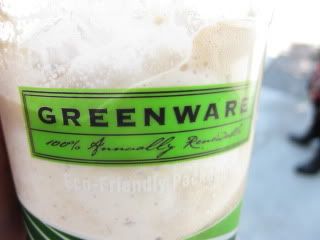 After eating we had to run over to Kara's Cupcakes to pick up samples for my co-worker who is getting married. I think that has to be one of the best parts about getting married – TESTING CIPCAKES! They have a cute set up in the Public Market with alot of big and mini cupcakes to choose from.
Here are the 7 mini's she picked up to sample.
From left to right:
Vanilla Chocolate
Banana Caramel (filled)
Carrot Cake
Raspberry Dazzle
Chocolate Velvet
Coconut
Meyer Lemon (filled)
My afternoon snack involved helping her test out just a few – 1 small bite of each. I have to say my all time favorite is the Carrot Cake with the Coconut coming in second. The Vanilla Chocolate reminds me of the yellow cake with chocolate frosting. All the other flavors I really did not like – the frosting didn't have any flavor – it was like having pure butter on top. I was so bummed because I LOVE cupckaes but I cannot say I'd buy these again.
It was a fun lunch and I was glad for the invite even if it means I'll be working out for hours to make up for it. You can always work out more, right 🙂 LOL