This morning we headed out for a nice long walk that ended up at Starbuck's. We ordered big ice teas to take with us on our way home. I have The Husband addicted to their ice tea now – hmmmm, I wonder, is it better than his Caramel Light Frapuccino's. Probably…..
We were ready for lunch when we returned home and I was so excited to make the Jump Start Thai Chicken Curry. I will be honest, I have never made Thai food and when I have gone out to Thai, I typically avoid coconut dishes since coconut can be pretty fat ladden. In this recipe you use lite coconut milk and I have to say it completely rocks!!!
You can find the recipe by clicking HERE! Did I ever tell you the cool thing about this book? The authors are from Napa and they had a big write up in the Napa Valley Register about about the Bikini Boot Camp in Napa that they started up with the release of the 30-Day Jump Start- soooo cool!
On that note, I present to you the Thai Coconut Curry Chicken I made served over a 3 oz grilled chicken breast and 1/2 a cup of Whole Wheat Couscous.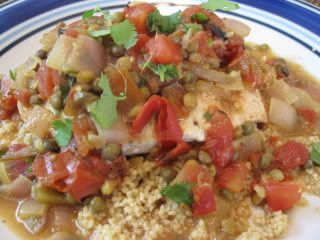 You can really taste everything in this recipe from the spice of the curry to the coconut milk – it's amazing! I had a spinach and tomato salad on the side topped with Newman's Own Lite Lime Vinaigrette.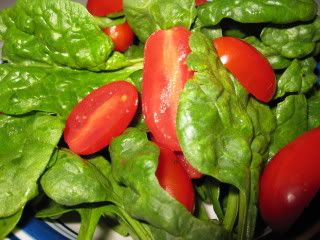 With a big glass of iced tea. This was worth the effort to cook an entire meal for lunch. It makes a ton so I will definitely be freezing the leftover sauce for an easy meal topper down the road.
Did I mention that this fabulous Thai dish is less than 300 calories?! If you are counting points my entire meal was 6 pts (woohoo!).
After lunch I prepared some of my eats for the week and now I am off to relax a bit with The Husband before he heads off to work. See you all later tonight for more cooking fun!