Happy Monday all! It is going to be an awesome day because I am taking on a new challenge beginning today. Do you remember when I talked about the Biggest Loser 30 Day Jump Start Diet? After giving it alot of thought the past few weeks, I decided it is time to give it a go. Feel free to hop in and join me as I would LOVE the support. If not, you can cheer me on as I go. I weighed in this morning Biggest Loser Style in my shirts and tank top. I will follow the plan 100% for the next 30 days for both the workouts and the eats. I may very a litlte with the dinners but still stick to their 1,500 +/- calorie goals each day. It is going to be a fabulous journey with tons of new recipes, exercises and more. I can't wait to see the results and at the end of 30 days I will give you a full recap.
If you'd like the buy the book, click here to order and have it sent to you.
I started out with my first powered up Jump Start Breakfast this morning.
1 cup of strawberries since the blueberries did not look good.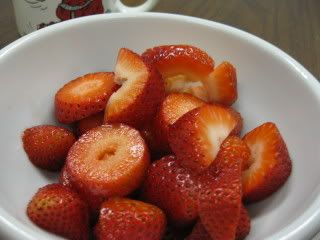 and my very own Homemade Egg McMuffin (1 DF Thomas English Muffin, 2 egg whites, 1 slice TJ's lite havarti cheese, 2 slices TJ's Lean Canadian Bacon).
Together with 8 oz of Fat Free Milk and some Decaf Cofee.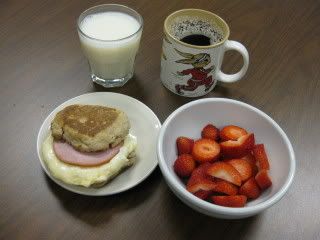 My breakfast was absolutely delicious and very satisfying. I am not even a big milk drinker unless it is in the form of a latte!
Today is super busy at work after being away on Friday. I am hoping to check back after lunch with more Jump Start Eats. If not, I will be sure to catch you after my jumpstart workout tonight.
Did I tell you it's going to be 95 degrees today?! Wow….crazy hot. I am still heading out to walk at lunch though because I am cool like that. I am being green again today and spared the air by carpooling too!
Stay tuned tonight as I am making another GIVEAWAY Announcement just in time for Earth Day!!!