Do I have your attention when I mention that I can tell you how to make a 4 Weight Watcher Point Blizzard? I remembered this little recipe I used to make when we were talking about it in my Weight Watcher meeting on Saturday. This blizzard substitute that I make that is 2-4 Weight Watcher Points depending upon what you choose to use. I used to make this using the Weight Watchers Chocolate Smoothie mix (1 WWP) or Carnation No Sugar Added Instant Breakfast (0 WWP). Here is all you need:
1 Weight Watcher Chocolate Smoothie Mix or Carnation Chocolate No Sugar Added Packet
1 c fat free milk
a handful of ice cubes
1 Weight Watchers Peanut butter Bliss or Chocolate Caramel 1 point bar – Click HERE to see what they look like (pink is caramel, blue is pb – you get them at any WW meeting and you do not have to be a member to buy them)
Blend the first 3 ingredients together until smooth. Chop up the weight watcher bar into 4 pieces and add to your mixer. Pulse to blend just a little but not too much because you want those nice chunks!
However, since I gave up artificial sweeteners over two years ago I no longer use the smoothie or Carnation Mixes. Today, I decided to see if I could recreate this in a healthier way.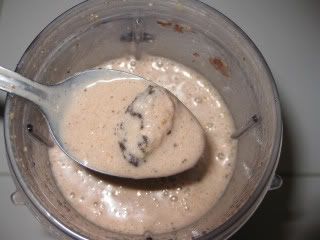 1/2 c fat free milk (1 WWP)
1/2 small banana (.5 WWP)
1/4 c fat free greek yogurt (.5 WWP)
1/2 – 1 Tbsp Chocolate Syrup or Artisana Cacao Bliss (1 WWP)
ice
1 Weight Watcher Peanut Butter Bliss Bar (1 WWP)
I definitely could have added more ice to make it thicker, however, I think the results were really good. The banana and chocolate helped to sweeten it up, but, the best part is finding those hidden little chunks of "candy" bar in your drink.
Try it ~ I bet you will like it for sure. The more ice you add or if you freeze your fruit the thicker it gets.
Oh and just in case you have entered already, be sure to click HERE to enter for your chance to win a signed copy of Hungry Girl's latest 200 under 200 cookbook and book tour T-Shirt.
Coming up next, our Memorial Day Grill out!